Victrex: New Advanced PAEK Product Designed for Additive Manufacturing
PEEK* polymer pioneer Victrex is preparing newly developed materials for additive manufacturing (AM). The first of these is a high strength material for laser sintering (LS) which attains lower refresh rates, resulting in improved recycling for unsintered powder. The second is a filament with better Z-strength than existing polyaryletherketone (PAEK)* materials and better printability for filament fusion (FF). The detailed technical results are expected to be presented at the bi-annual Additive Manufacturing conference of the University of Exeter Center for Additive Layer Manufacturing (CALM), in September 2018.
Jakob Sigurdsson, Victrex CEO, commented: "These next-generation VICTREX PAEK materials for additive manufacturing mark a decisive step forward, having potential to transform multiple applications, including aerospace, and medical. The exciting progress is based on continued intense R&D at Victrex and excellent collaboration within the Victrex led consortium of companies and institutions** pursuing innovation in additive manufacturing. Through this consortium we're already seeing demonstrator parts that show how AM processes, coupled with high-performance materials, transform thinking to create truly innovative parts based on increased design possibilities."
Advantages of additive manufacturing can be deployed to reduce costs, shorten time to market, and enable the production of parts too complex to be manufactured using traditional methods. The PAEK incumbent materials on the market today, although used in some AM applications, were designed for conventional manufacturing methods, such as machining and injection molding. Because of this, they have some features that aren't optimal for additive manufacturing processes. A first generation of PAEK material for laser sintering can only be recycled in a very low extent and required nearly full refresh of the printing bed with new powder, and PEEK filaments available for FF have poor interlayer bonding, leading to a loss in Z-strength.
The new polymer grades developed by Victrex have shown encouragingly low refresh rates (improves recycle for unsintered powder) with similar mechanical properties in LS, and in FF good mechanical properties and printability.
John Grasmeder, Chief Scientist at Victrex explains: "Breakthrough technology is paving the way for an exciting future for additive manufacturing PAEK. The powder recycle work for laser sintering, using the new Victrex development polymer grades has gone very well, with no measurable loss of properties when test components were made from partially recycled powder. We believe it will be possible to re-use all of the non-sintered powder that is recovered after a build run. This will result in a significant reduction in material costs compared to current PAEK materials where up to 40% of the polymer is wasted and cannot be recycled."
Partnering for Progress in AM
Victrex is leading a consortium of companies and institutions and was awarded funding from the UK's agency for innovation, Innovate UK, in 2016 to carry out intensive pioneering research and development to advance AM technologies, in particular high-temperature, affordable polymer composites for AM aerospace applications. The other members of the consortium are Airbus Group Innovations, EOS, University of Exeter Center for Additive Layer Manufacturing, E3D-Online, HiETA Technologies, South West Metal Finishing, and 3T-RPD.
The new VICTREX PAEK filament and powder tie in with technologies developed by other members of this Innovate UK project. EOS has recently released a new automation-ready manufacturing platform for laser sintering of plastic parts on an industrial scale (EOS P 500) with the capability to print high-performance polymers at high temperatures. Selected materials of the consortium are evaluated at EOS R&D facilities for processability on current EOS systems as well as for use with the EOS P 500 platforms. Victrex is planning to continue pre-commercial testing of a new PAEK filament product in conjunction with consortium partner E3D, who has recently commercially released a new water-cooled filament extruder head especially optimized for this new PAEK filament.
Victrex has more than 35 years of knowledge in developing and applying novel PAEK/PEEK* polymer based solutions spanning polymers, forms and parts in selected areas. The lightweight, high-strength PEEK polymer uniquely supports a combination of multiple requirements as it provides high resistance to wear, high temperatures, fatigue and aggressive fluids/chemicals, and together these properties can contribute to more design freedom and cost-efficient production.
*PEEK, polyetheretherketones such as VICTREX™ PEEK are a member of the PAEK, polyaryletherketone, family of high-performance thermoplastics.
** The following companies partner in the Additive Manufacturing consortium headed by Victrex and funded by Innovate UK include: Airbus Group Innovations, 3T-RPD Ltd, E3D-Online, EOS, University of Exeter Center for Additive Layer Manufacturing (CALM), HiETA Technologies, South West Metal Finishing, and Victrex
Comments (0)
This post does not have any comments. Be the first to leave a comment below.
---
Post A Comment
You must be logged in before you can post a comment. Login now.
Featured Product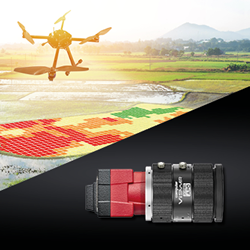 Allied Vision's compact and light weight Alvium SWIR (short wave infrared) cameras are the ideal choice to build cost-effective OEM systems used in embedded and machine vision applications. The cameras support a spectral range from 400 nm to 1700 nm at high quantum efficiencies. This allows to capture images in both the visible and SWIR spectra with a single camera and enables users to reduce overall system costs! Equipped with Sony's IMX990 and IMX991 SenSWIR InGaAs sensors, Alvium SWIR cameras deliver high image quality and frame rates. This makes them well suited for drones or handheld devices used in various industries such as, agriculture, mining, solar cell inspection or medical.