ISG to Address Future of 'Digital Factory' at Connected Manufacturing Forum
Information Services Group (ISG) (Nasdaq: III), a leading global technology research and advisory firm, will offer insights on how manufacturers can realize the full potential of their "Digital Factory" initiatives at the Connected Manufacturing Forum June 19-20 at the Four Seasons Hotel in St. Louis.
Mike Harmon, global leader of ISG Engineering Services, will be part of a panel discussion, "Five Fundamentals to Know Before Conceptualizing and Developing a Connected Manufacturing Blueprint," at 9:10 a.m., and will lead the roundtable discussion, "Implementing IIoT Solutions to Prepare Your Manufacturing Sites for the Future," at 4:30 p.m., both on Tuesday, June 19.
Harmon contends that mixed results and lower-than-expected ROI are behind the recent slowdown in Digital Factory investments, which have been eclipsed by growing investments in Smart City and Connected Building projects. He cited industry research that shows Connected Industry investments have faded from 22 percent of global Internet of Things (IoT) projects in 2016 to only 17 percent today.
"Many manufacturing enterprises are struggling to roll out and derive full value from their digital-factory initiatives," Harmon said. "They understand the potential benefits, but at the same time they are having a hard time architecting their vision. One of their biggest challenges is finding a way to manage the overlap between IT and operational technology. Manufacturers are struggling to define the operating models that will enable them to effectively govern the relationship between their IT and engineering towers and achieve the desired results."
Many enterprises are stuck at the proof-of-concept stage and "aren't evolving into a fully operationalized state across multiple plants or multiple operations within a plant," Harmon said. "To move beyond mere point solutions, they must have the right strategy, the right organizational structure and the right governance. It's only then that they will be able to fully realize the benefits of their digital-factory initiatives."
Harmon will discuss ISG's approach to assessing Industrial IoT (IIoT) readiness and maturity, defining a digital-factory vision and strategy, identifying business opportunities and justifying them, and implementing digital factory transformation initiatives.
Prior to the event, on Monday, June 18, ISG will host an invitation-only dinner for clients and prospects, and on Tuesday, June 19, ISG and Cognizant will co-host an early-evening roundtable discussion, followed by a dinner at the Four Seasons Hotel.
Sponsored by ISG, the Connected Manufacturing Forum brings together leading manufacturing, operations, technology, supply chain and advanced engineering executives for a collaborative discussion of the latest Industry 4.0 trends, challenges and opportunities. Participants are invited to stop by the ISG booth (space #203) to talk with the firm's subject matter experts while at the event. For more information, visit the event website.
About ISG
ISG (Information Services Group) (Nasdaq: III) is a leading global technology research and advisory firm. A trusted business partner to more than 700 clients, including 75 of the top 100 enterprises in the world, ISG is committed to helping corporations, public sector organizations, and service and technology providers achieve operational excellence and faster growth. The firm specializes in digital transformation services, including automation, cloud and data analytics; sourcing advisory; managed governance and risk services; network carrier services; technology strategy and operations design; change management; market intelligence and technology research and analysis. Founded in 2006, and based in Stamford, Conn., ISG employs more than 1,300 professionals operating in more than 20 countries—a global team known for its innovative thinking, market influence, deep industry and technology expertise, and world-class research and analytical capabilities based on the industry's most comprehensive marketplace data. For more information, visit www.isg-one.com.
Comments (0)
This post does not have any comments. Be the first to leave a comment below.
---
Post A Comment
You must be logged in before you can post a comment. Login now.
Featured Product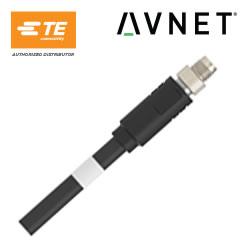 Single Pair Ethernet enables high speed communication up to 1 Gb/s in a cost-effective solution that reduces complexity, space and weight by transmitting over two wires rather than four of eight. In robotics and industrial applications, this weight reduction enables faster movements and lowered energy consumption while enabling data and power up to 50W over a single twisted pair. TE Connectivity is a proud founding partner in the Industrial Partner Network who is driving the adoption of Single Pair Ethernet technology.