Gerber Showcases On-Demand Workflow Solution at Texprocess and Transforms Speed-to-Market Manufacturing
Gerber Technology, in collaboration with Kornit Digital and Henderson Sewing Machine Co., will highlight how digitalization can make purchase-activated manufacturing and mass customization a reality. Attendees can experience a full end-to-end, on-demand "micro-factory" exhibit that demonstrates how—in today's "see now, buy now" on demand world—manufacturers can digitize their process and increase their overall efficiency, while also reducing their inventory without impacting customer satisfaction or quality.
This digital workflow process will include: Gerber Technology's AccuMark® and AccuMark 3D for Product Design. The demonstration will show how design is optimized by leveraging custom graphics and 3D simulation, then converting patterns into a marker file that will be prepared and sent to a digital printer.
Kornit Digital's Allegro Printer
In a single step, the Allegro will digitally print designs directly to textile with its patented Fixation on the Fly (FOF) inline pre-treatment process. This waterless solution leaves a low eco-footprint by eliminating steps such as pre-treatment, washing, and steaming. Kornit will be showing new Neon inks that enable brighter colors and extended gamut, opening new market segments to
increase system utilization.
Gerber's Z1 single-ply cutter with ContourVision™
The Z1 performs automated vision-aided cutting. An automated scan-to-cut system processes rolls of custom printed textiles by automatically generating cut files to drive the process. The Z1 is enabled with GERBERconnect™ which allows data to be transferred to the Cloud and service professionals to diagnose your cutter in real time ensuring maximum production efficiency.
Omron Robot, integrated by Henderson Sewing Machine
An autonomous mobile robot will collect bundled cut parts and transport them from the design-print-cut area to a robotic sewing station across the aisle at the Henderson Sewing Designed Gantry Robotic Sewing Station, booth #717.
Gerber's knowledge and the passion of our people create an unparalleled level of support for our customers."We are enabling the industry to be proactive and move quickly in adopting their digital transformation," stated Mohit Uberoi, CEO of Gerber Technology. "Our team is ready to help facilitate the process — empowering our customers to turn their data into speed."
About Gerber's Digital Solutions
Gerber's Digital Solutions include the newest releases of YuniquePLM® product lifecycle management software, as well as AccuMark®, the industry-leading pattern design, grading, marker making and production planning software, AccuMark 3D and AccuPlan™. The Digital Solutions architecture uses common file structures. Data can easily be passed to the cut room where smart machines, like the GERBERspreader™ XLs Series and the Gerber Paragon® line of multi-ply GERBERcutters, can process the order with a simple barcode scan. A closed-loop, end-to-end Digital Solution like Gerber's, that integrates software and smart machines, allows companies to automate their entire process and streamline data and workflow necessary to provide insight, maximize throughput, minimize errors and reduce labor costs to be competitive in mass production environments.
About Gerber Technology
Gerber Technology delivers industry-leading software and automation solutions that help apparel and industrial customers improve their manufacturing and design processes and more effectively manage and connect the supply chain, from product development and production to retail and the end customer. Gerber serves 78,000 customers in 134 countries, including more than 100 Fortune 500 companies in apparel & accessories, home and leisure, transportation, packaging and sign & graphics. The company develops and manufactures its products from various locations in the United States and Canada and has additional manufacturing capabilities in China.
Based in Connecticut in the USA, Gerber Technology is owned by AIP, a New York based, global private equity firm specializing in the technology sector and has more than $3.0 billion assets under management. Visit www.gerbertechnology.com for more information.
Comments (0)
This post does not have any comments. Be the first to leave a comment below.
---
Post A Comment
You must be logged in before you can post a comment. Login now.
Featured Product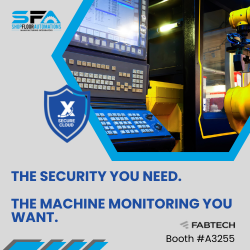 For manufacturers adhering to regulations like International Traffic in Arms (ITAR), Defense Federal Acquisition Regulation Supplement (DFARS) and other security and compliance requirements, the ability to monitor disparate machines, each with a unique control system and communication protocol with varying ages, can make continuous improvement initiatives challenging in the cloud. The Scytec DataXchange solution, available through Shop Floor Automations, resolves these issues by leveraging AWS GovCloud to capture real-time, Industrial Internet of Things (IIoT) data from a variety of equipment - from lasers and press brakes, to saws and robots - through universal machine connections to give teams full transparency on the shop floor through an architected secure cloud solution for a total smart factory transformation.