Magic 2018 Preview: Moving Into The Future Of Fashion Production And Reimagining Retail
Deborah Weinswig for Forbes: Next week in Las Vegas, our team will be attending Magic, one of fashion's most comprehensive trade shows. The event covers the men's, women's and children's apparel, accessories and footwear markets. There are three panel discussions from this year's show that I'll be highlighting, including "Disrupting Fashion: A Changing Landscape," a session that I'll be participating in on Tuesday.
As I was prepping for my Magic panel, I was reflecting on the changes in the industry and our main takeaways from the last Magic show, which was held in August last year. Speed was considered one of the biggest disruptions in fashion then, and it still is. Consumers are demanding that new products be made available for purchase, and then delivered, faster than ever before, and the most successful retailers (think Amazon and Zara) are getting products to them in record time. Speed is a competitive advantage for those that can achieve it, and one that is impacting every step of the fashion lifecycle. "Disruption" is a term that has been so overused that it doesn't pack the same punch it once did, but when major disruption does occur, others are forced to change—and those that can embrace and navigate disruption are the most successful.
One overall theme of next week's Magic event is moving into the future in terms of manufacturing fashion, reimagining retail and, ultimately, creating and adopting solutions to achieve speed. Here are the trends we are looking forward to hearing more about at the trade show next week: Full Article:
Comments (0)
This post does not have any comments. Be the first to leave a comment below.
---
Post A Comment
You must be logged in before you can post a comment. Login now.
Featured Product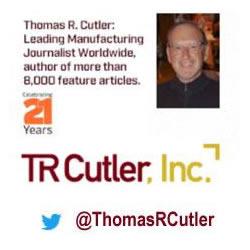 Cutler authors more than 1000 feature articles annually regarding the manufacturing sector. Cutler has established special divisions including African manufacturing, Colombian manufacturing, Gen Z workforce, and Food & Beverage. Cutler was recently named the Global Supply Chain journalist of the year for the second time in a row. Over 5200 industry leaders follow Cutler on Twitter daily at @ThomasRCutler. Contact Cutler at trcutler@trcutlerinc.com.