Carnegie Mellon University Extends Research into 3D Micro-Additive Manufacturing with Optomec Aerosol Jet Printed Electronics System
ALBUQUERQUE, N.M.--Optomec, a leading global supplier of production-grade additive manufacturing systems for 3D printed electronics and 3D printed metals, today announced its Aerosol Jet Technology has been deployed by Carnegie Mellon University's College of Engineering to advance 3D micro-additive manufacturing methods for fully printed conformal sensors, low loss passives and antennas for on-chip and off-chip electronics. These advancements have significant potential to drive next-generation manufacturing processes.
Carnegie Mellon's Advanced Manufacturing and Materials Laboratory (AMML), led by Dr. Rahul Panat, is working on solving fundamental and applied problems in the areas of printed and flexible microelectronics manufacturing and lithium-ion batteries. These areas are highly relevant to realize devices and systems for wearable and Internet of Things (IoT) applications. Examples include smart contact lenses, wearable electronic clothing, robotic skins, and bio-patches.
"We employ an Optomec Aerosol Jet 3D print system to directly print nanoparticle inks and polymers over complex surfaces," said Dr. Panat. "The Aerosol Jet system has enabled us to fully print 3D antennas at the sub 100um length scale and to conduct simulation studies to identify omnidirectional antenna designs. These fabrication methods are unique and can pave the way for several applications in the high-speed communication areas." The team has also demonstrated recently that complex 3D battery architectures fabricated by Aerosol Jet show electrode utilization and fast-charge discharge cycles. Dr. Panat and his team are focused on developing next generation fully printed and in-situ cured solutions that have practical use within mainstream manufacturing.
About the College of Engineering at Carnegie Mellon University
The College of Engineering at Carnegie Mellon University is a top-ranked engineering college that is known for our intentional focus on cross-disciplinary collaboration in research. The College is well-known for working on problems of both scientific and practical importance. Our "maker" culture is ingrained in all that we do, leading to novel approaches and transformative results. Our acclaimed faculty have a focus on innovation management and engineering to yield transformative results that will drive the intellectual and economic vitality of our community, nation and world. For more information about The College of Engineering contact Emily Durham, edurham1@andrew.cmu.edu.
About Optomec
Optomec is a privately-held, rapidly growing supplier of Additive Manufacturing systems. Optomec's patented Aerosol Jet Systems for printed electronics and LENS 3D Printers for metal components are used by industry to reduce product cost and improve performance. Together, these unique printing solutions work with the broadest spectrum of functional materials, ranging from electronic inks to structural metals and even biological matter. Optomec has more than 300 marquee customers around the world, targeting production applications in the Electronics, Energy, Life Sciences and Aerospace industries. For more information about Optomec, visit www.optomec.com.
Comments (0)
This post does not have any comments. Be the first to leave a comment below.
---
Post A Comment
You must be logged in before you can post a comment. Login now.
Featured Product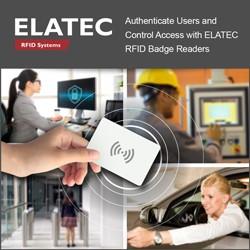 With a tap of the badge, RFID readers from ELATEC provide secure, reliable and easy-to-use user authentication, access control and usage tracking of hardware and software in industrial automation processes. Reader durability in harsh plant floor environments is another essential feature. Choose the right authentication and access control solution and extend RFID card-based capability for the access control of PLC, robot and HMI automation controller software and devices requiring special operator training.