Analysis: Four smart factory trends to watch in 2018
Jessica Twentyman for Internet of Business: At the tail end of 2017, a new manufacturing plant opened in Sunnyvale, California, that takes the smart factory concept to a new level.
The facility belongs to Quanergy, a company that specializes in making LiDAR [light detection and radar] sensors – the technology that allows autonomous vehicles to sense their surroundings and to steer, brake and avoid collisions.
Quanergy's new smart factory features a high-capacity, fully automated production line, located in a clean room environment. The line features state-of-the-art semiconductor handling and packaging equipment, including a conveyor system connecting machinery along this line that turns the raw material of silicon wafers into finished LiDAR sensors.
The facility also handles automated calibration and final testing of sensors, according to the company, providing "high quality and reliability in an industry that thus far relied mainly on manual labour to build mechanical LiDARS."
Smartness, of course, is in the eyes of the beholder – but it's probably safe to define the 'smart factory' as a venue in which connected technologies enable manufacturing operations to become more efficient and more responsive. And we can expect to see more connected technology and smart factories emerge in the manufacturing sector during 2018. Full Article:
Comments (0)
This post does not have any comments. Be the first to leave a comment below.
---
Post A Comment
You must be logged in before you can post a comment. Login now.
Featured Product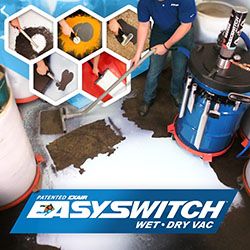 EXAIR's compressed air operated Heavy Duty HEPA Vac attaches to an ordinary 30, 55, or 110 gallon open top drum to turn it into a powerful, HEPA (High Efficiency Particulate Air) quality, industrial vacuum cleaner. Like the Heavy Duty Dry Vac, it's powerfully designed to move more material with less wear. Engineered for dusty environments that require regular cleaning, the HEPA filter is designed with high capacity in mind. Ordinary vacuums can clog up quickly in environments with an abundance of dust or particulates. An economical, easily maintained pre-filter stops larger particles of debris while the HEPA filter handles smaller matter. The Heavy Duty HEPA Vac does not use electricity and has no moving parts, assuring maintenance free operation. The Heavy Duty HEPA Vac's lever lock drum lid fits any open top 30, 55 or 110 gallon drum. Moving it from one drum to another quickly, making it easy to keep different materials separate for recycling. www.exair.com/184/hepa.dirpr.htm