3D-printed objects change color on demand
Ben Coxworth for New Atlas: Imagine if you could recolor your smartphone case or other accessories, to match what you were wearing on any given day. Well, it may eventually be possible, thanks to research being conducted at MIT's Computer Science and Artificial Intelligence Laboratory (CSAIL). Scientists there have created a new system that allows the color of 3D-printed objects to be changed repeatedly, after they've been created.
The system is known as ColorFab, and here's how it works …
When items are printed using the new technology, they're made up of voxels (three-dimensional pixels) that incorporate either red, yellow or blue light-sensitive dye. All of the voxels take on their colors when the object is exposed to ultraviolet light. Even after being removed from the UV light, all of the voxels remain "switched on," so the object is a mosaic of red, yellow and blue.
The dye, however, can be "switched off" and made transparent when exposed to sufficiently-intense visible light. With this in mind, after all of the voxels have been switched on using UV light, some of them are then selectively switched off by projecting a pattern of visible light onto the object. Full Article:
Comments (0)
This post does not have any comments. Be the first to leave a comment below.
---
Post A Comment
You must be logged in before you can post a comment. Login now.
Featured Product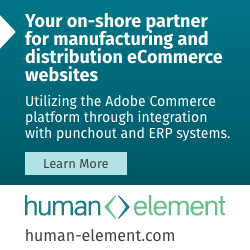 With Human Element, you will build a strategic partnership with experienced on-shore strategists and developers who understand the pain points unique to manufacturers and distributors. Using Agile methodologies and proven eCommerce website development strategies, our team positions clients for success.