What We Can Learn From the Second Life of Google Glass
Thomas Hornigold for Singularity Hub: For every new piece of technology that gets developed, you can usually find people saying it will never be useful. The president of the Michigan Savings Bank in 1903, for example, said, "The horse is here to stay but the automobile is only a novelty—a fad." It's equally easy to find people raving about whichever new technology is at the peak of the Gartner Hype Cycle, which tracks the buzz around these newest developments and attempts to temper predictions. When technologies emerge, there are all kinds of uncertainties, from the actual capacity of the technology to its use cases in real life to the price tag.
Eventually the dust settles, and some technologies get widely adopted, to the extent that they can become "invisible"; people take them for granted. Others fall by the wayside as gimmicky fads or impractical ideas. Picking which horses to back is the difference between Silicon Valley millions and Betamax pub-quiz-question obscurity. For a while, it seemed that Google had—for once—backed the wrong horse.
Google Glass emerged from Google X, the ubiquitous tech giant's much-hyped moonshot factory, where highly secretive researchers work on the sci-fi technologies of the future. Self-driving cars and artificial intelligence are the more mundane end for an organization that apparently once looked into jetpacks and teleportation.
The original smart glasses, Google began selling Google Glass in 2013 for $1,500 as prototypes for their acolytes, around 8,000 early adopters. Users could control the glasses with a touchpad, or, activated by tilting the head back, with voice commands. Audio relay—as with several wearable products—is via bone conduction, which transmits sound by vibrating the skull bones of the user. This was going to usher in the age of augmented reality, the next best thing to having a chip implanted directly into your brain. Full Article:
Comments (0)
This post does not have any comments. Be the first to leave a comment below.
---
Post A Comment
You must be logged in before you can post a comment. Login now.
Featured Product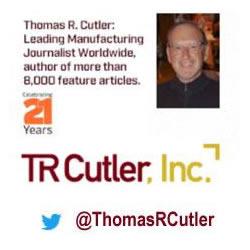 Cutler has authored more than 7000 articles for a wide range of manufacturing periodicals, industrial publications, and business journals including most of the leading monthly trade publications.