3D Printer Farms And Robotics Start Pointing To Future Of Manufacturing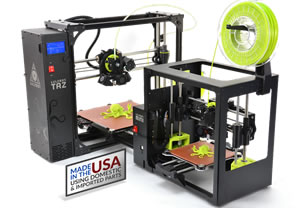 TJ McCue for Forbes: 3D printer manufacturer MarkForged, known for its innovative, super strong, carbon fiber 3D printing capability "has raised a $30 million Series C round led by next47, a venture firm backed by manufacturing giant Siemens AG, and with participation from Microsoft Ventures (Nasdaq: MSFT) and Porsche SE," according to the Boston Business Journal.
Microsoft, Porsche, and Siemens are not the only Forbes Global 1000 companies paying closer attention to the 3D printer industry. GE, Caterpillar, Ford, Boeing, and others have 3D printing operations already in place or are building out low-volume manufacturing facilities with racks of 3D printers within their bigger factories. It is a good sign for any burgeoning industry when big players start to get involved and invested. One of the best sources on 3D Printing's growth is Terry Wohlers and his report shows a $6 billion industry.
Many relatively small companies are providing printers and software for these new 3D print clusters, or farms, as many call them. Naturally, the large companies, such as 3D Systems and Stratasys are also building up this automated, distributed manufacturing approach, as well.
For example, LulzBot, a leading open source hardware 3D printer manufacturer has its own printer cluster of 155 printers (a mix of LulzBot TAZ 6 and LulzBot Mini) in a single room on enclosed racks. Ben Malouf, LulzBot Director of Marketing, shared the following statistics with me: Full Article:
Comments (0)
This post does not have any comments. Be the first to leave a comment below.
---
Post A Comment
You must be logged in before you can post a comment. Login now.
Featured Product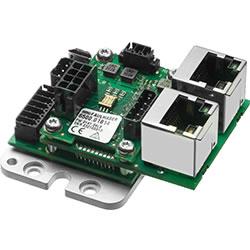 The FAULHABER stepper motor AM3248 raises the bar in terms of performance and dimensions. Offering up to 10,000 rpm, it achieves five times the speed of comparable stepper motors. Combined with a gearhead reduction of 100:1, it supplies a torque of 5 Nm. With a diameter of just 32 mm, it is suited for a wide range of applications in areas such as aerospace, laboratory automation, the semiconductor industry, robotics and 3D printing. Learn more!