Amazon robots bring a brave new world to the warehouse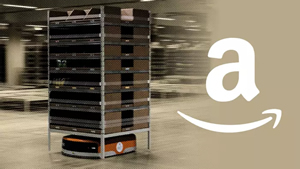 Michael Pooler for FT.com: An industrial dance takes place every day and night on the floor of Amazon's huge warehouse in Manchester. Tall upright shelves waltz in and out of each other's paths and around stationary storage units, weaving backwards, forwards or sideways without touching. Performing the graceful movements is an unassuming troupe: squat orange machines on wheels and just 16 inches tall, which slot underneath and carry their loads in a geometric choreography. The only humans in sight are around a caged perimeter surrounding the robots, where the storage units arrive for goods to be picked by staff through gaps in the fence, according to instructions from computer screens. "Up until now . . . we've had these long aisles people walk up and down to find an item, pick it off a shelf and scan it, put it in a tote or on a cart to go somewhere," says Roy Perticucci, vice-president of Europe customer fulfilment at Amazon. "Now we have the shelves moving to the picker and that makes a huge difference. I would say [it's] arguably the start of an assembly line working in logistics." Full Article:
Comments (0)
This post does not have any comments. Be the first to leave a comment below.
---
Post A Comment
You must be logged in before you can post a comment. Login now.
Featured Product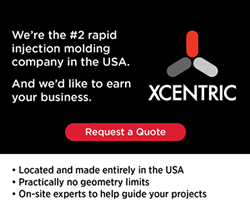 Xcentric plastic injection molding services focus on rapid delivery of prototype and low-volume production components. Our production processes are streamlined such that we typically deliver first articles in less than 15 business days, and for simple expedited projects in as little as five days. At the other end of the spectrum, we frequently produce components for customers needing a few hundred thousand components as a bridge to higher productivity molds. Over time, we have earned a reputation for being able to handle highly complex projects, overmolding, custom insert molding, and other complicated projects much faster than with traditional tooling, often helping our clients get to market weeks, if not months earlier. At Xcentric, every mold is designed and fabricated and all production is run in one of our two Michigan-based facilities.