Google Glass 2.0 Is a Startling Second Act
Steven Levy for Wired: Don't call Heather Erickson a glasshole. Yes, that's Google Glass on her frames. But she's not using it to check her Facebook, dictate messages, or capture a no-hands video while riding a roller coaster. Erickson is a 30-year-old factory worker in rural Jackson, Minnesota. For her, Glass is not a hip way to hang apps in front of her eyeballs, but a tool—as much a tool as her power wrenches. It walks her through her shifts at Station 50 on the factory floor, where she builds motors for tractors.
No one at Erickson's factory is concerned that the consumer version of Glass, after an initial burst of media glory, was condemned for bugginess and creepiness, then ushered into a gadget version of the Bardo. The original Glass designers had starry-eyed visions of masses blissfully living their lives in tandem with a wraparound frame and a tiny computer screen hovering over their eye. But the dream quickly gave way to disillusionment as early adopters found that it delivered less than it promised—and users became the target of shaming from outsiders concerned about privacy. Within three years, Alphabet (the parent company of Google and its sister company, the "moonshot factory" called X) had given up Glass for good—or so people assumed.
What they didn't know was that Alphabet was commissioning a small group to develop a version for the workplace. The team lives in Alphabet's X division, where Glass was first developed as a passion project of Google cofounder Sergey Brin. Now the focus was on making a practical workplace tool that saves time and money. Announced today, it is called Glass Enterprise Edition. Full Article:
Comments (1)
I'd love to see these used in the eCommerce Fulfillment industry. It hink glass would be a perfect fit for order pickers in a fast paced fulfiillment center. Anybody using them for such an activity out there?
Post A Comment
You must be logged in before you can post a comment. Login now.
Featured Product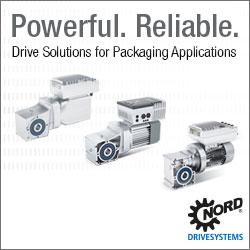 NORD's redesigned line of small CLINCHER parallel gear units showcase increased power and torque capacity for a variety of applications. These re-engineered versions will be replacing the existing SK0182NB, 0282NB, and 1382NB units. They are lightweight, have improved heat dissipation, are more cost-effective, and are available with NORD nsd tupHTM sealed surface conversion for wash-down and extreme environments.