If Foxconn builds a manufacturing plant in Wisconsin, it won't be what many expect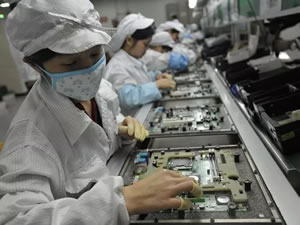 John Schmid , Milwaukee Journal Sentinel: As politicians in Wisconsin and other Midwestern states compete to lure Foxconn Technology Corp., the high-stakes gambit has drawn attention to a disconnect between nostalgic perceptions about the American manufacturing sector and the jobs it actually generates in the modern economy.
Foxconn, which ships freighters full of Apple iPhones, Amazon Kindles and Sony PlayStations to U.S. consumers, pays its Chinese assembly workers an estimated $2.50 an hour – including benefits and social entitlements. Once castigated for sweatshops, Foxconn these days is one of Asia's most vocal enthusiasts of replacing humans with robots.
It almost single-handedly sets the global standards for the sort of cutthroat production costs that have shaken the confidence of America's industrial heartland.
Foxconn is considering building a multi-billion-dollar "smart factory" in Wisconsin, meant to supply flat-screen display panels. The company is dangling hopes of plentiful jobs even as it also invariably will import its ironclad insistence on lowest possible costs and highest possible automation – what Foxconn calls "the lowest total cost solution."
If Wisconsin succeeds – with promises of government subsidies and tax breaks and backing from the White House – it would be a game-changing investment, with scope, scale and complexity the state has never seen before.
However, the specter of a mega-deal raises questions about whether a state built on the foundations of 19th century industry is prepared for the seismic changes that Foxconn epitomizes – and which already are reshaping the global economy.
Does Wisconsin have the deep reserves of digital-age systems engineers who are coveted in the new manufacturing economy – but said to be in short supply in southeastern Wisconsin and much of the Midwest? Full Article:
Comments (0)
This post does not have any comments. Be the first to leave a comment below.
---
Post A Comment
You must be logged in before you can post a comment. Login now.
Featured Product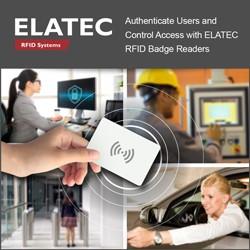 With a tap of the badge, RFID readers from ELATEC provide secure, reliable and easy-to-use user authentication, access control and usage tracking of hardware and software in industrial automation processes. Reader durability in harsh plant floor environments is another essential feature. Choose the right authentication and access control solution and extend RFID card-based capability for the access control of PLC, robot and HMI automation controller software and devices requiring special operator training.