CONSTRUCTION OF 3D-PRINTED BIKE BRIDGE BEGINS IN EINDHOVEN
Janene Pieters for NL Times: The Technical University in Eindhoven, working with construction company BAM, started 3D printing a bicycle bridge this weekend. The bridge is the first of its kind in the world and is printed with pre-stressed and reinforced concrete, according to NOS.
TU Eindhoven professor Theo Salet called the process very exciting and stressful. "Stressful because the work you do is being put into practice for the first time. It must be safe." He said. "A lot has been done to investigate how the material behaves and how it will behave if it forms a real construction. So this step, from the laboratory to something that is used in practice, is very beautiful, but also stressful."
The structure is printed in parts and put together on site, using a special concrete mortar, Salet explained to NOS. "If you pour normal concrete, it runs away on all sides. That is the intention, so that it spreads well in the mold. But this is very special material. If I lay it down, it stays in place. Compare it with toothpaste or mayonnaise. It does not lose form." That also means that less of the material is used. "The printer puts down much less", the professor said to the broadcaster.
The bridge wil form part of a roundabout at Gemert, which will connect the N605 and the N272. Full Article:
Comments (0)
This post does not have any comments. Be the first to leave a comment below.
---
Post A Comment
You must be logged in before you can post a comment. Login now.
Featured Product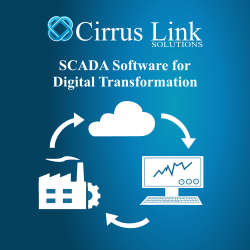 Cirrus Link provides a modular approach to building Enterprise-Class IIOT/SCADA/MES applications delivering a superior OT solution and enabling your enterprise to connect OT data to IT services for big data analytics. CTO Arlen Nipper, co-inventor of MQTT, forged a relationship with Inductive Automation to bring our software together for the ultimate IIoT solution. The Cirrus Link modules offer complete functions such as MQTT enablement, data delivery to the cloud, electronic flow measurement, and more. These software modules transmit data from the field via MQTT, with options to launch an MQTT server in the cloud or on premise and connecting OT data to industrial and business applications. The Cirrus Link IIoT modules for Ignition empower organizations to create one streamlined pipeline for all their IIoT data.