CES 2017 - MarkForged 3D prints metal
From CES 2017: From the company that revolutionized 3D printing with composite carbon fiber, comes a breakthrough in metal. The Metal X greatly accelerates innovation, delivering metal parts overnight using a new technology at a fraction of the cost. Leave 20th century manufacturing in the dust and create anything from industrial replacement parts to injection molds to working prototypes.
Comments (0)
This post does not have any comments. Be the first to leave a comment below.
---
Post A Comment
You must be logged in before you can post a comment. Login now.
Featured Product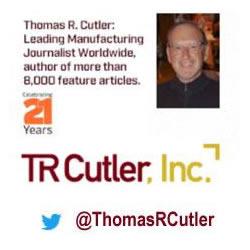 Cutler authors more than 1000 feature articles annually regarding the manufacturing sector. Cutler has established special divisions including African manufacturing, Colombian manufacturing, Gen Z workforce, and Food & Beverage. Cutler was recently named the Global Supply Chain journalist of the year for the second time in a row. Over 5200 industry leaders follow Cutler on Twitter daily at @ThomasRCutler. Contact Cutler at trcutler@trcutlerinc.com.