The Rise and Fall of the Everyman Tycoon
Article about the rise and fall of MakerBot by Andrew Zaleski at Backchannel:
Itwas October 2009 when Bre Pettis — his unmistakable sideburns and dark-rimmed rectangular glasses framing his face — took the stage at Ignite NYC, threw his hand in the air, and shouted "Hooray!" two times. A PowerPoint slide lit up behind him, revealing a photo of a hollow wood box crisscrossed with wiring. Bouncing up and down, his profuse mop of graying hair flopping about, Pettis began: "I'm going to talk about MakerBot and the future and an industrial revolution that we're beginning — that's begun."
A former art teacher, Pettis had emerged as a key character in the growing maker movement of the late 2000s, a worldwide community of tinkerers who holed away in makeshift workshops and hackerspaces, equally at home with tools like old-school lathes and contemporary laser cutters. Pettis had begun his ascent in 2006, producing weekly videos for MAKE magazine—the maker movement's Bible—that featured him navigating goofy tasks such as powering a light bulb with a modified hamster wheel. In 2008, he cofoundedthe NYC Resistor hackerspace in Brooklyn. By then, Pettis was a star. A year later, he launched a Brooklyn-based startup with friends Adam Mayer and Zach Smith (also a NYC Resistor cofounder) called MakerBot... (full article)
Comments (0)
This post does not have any comments. Be the first to leave a comment below.
---
Post A Comment
You must be logged in before you can post a comment. Login now.
Featured Product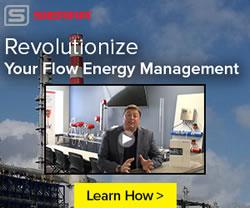 Sierra Instruments announces the launch of its new flow energy solution for managing and optimizing flow measurement for industrial facilities of all sizes. It features Sierra's QuadraTherm 640i/780i thermal flow meters, their InnovaMass 240i/241i vortex flow meters, and their new InnovaSonic 207i ultrasonic flow meter. Designed, built, and calibrated in the USA by Sierra, the Big-3TM share the same revolutionary Raptor firmware and many of the same software apps. They are a complete flow energy solution for flows like compressed air, natural gas, steam, and hot and chilled water. Together, they set a new standard in ease-of-purchase, performance, accuracy, reliability, and ease of use.