Robots won't kill the workforce. They'll save the global economy.
Ruchir Sharma for The Washington Post: The United Nations forecasts that the global population will rise from 7.3 billion to nearly 10 billion by 2050, a big number that often prompts warnings about overpopulation. Some have come from neo-Malthusians, who fear that population growth will outstrip the food supply, leaving a hungry planet. Others appear in the tirades of anti-immigrant populists, invoking the specter of a rising tide of humanity as cause to slam borders shut. Still others inspire a chorus of neo-Luddites, who fear that the "rise of the robots" is rapidly making human workers obsolete, a threat all the more alarming if the human population is exploding.
Before long, though, we're more likely to treasure robots than to revile them. They may be the one thing that can protect the global economy from the dangers that lie ahead. Cont'd...
Comments (0)
This post does not have any comments. Be the first to leave a comment below.
---
Post A Comment
You must be logged in before you can post a comment. Login now.
Featured Product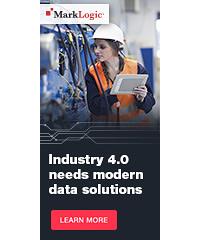 Use Data to Deliver Efficiency, Reduce Risk, and Create Better Products. Disruptive technologies and market changes are transforming the manufacturing industry, requiring a new focus on optimizing use of data and information. It all adds up to a new industrial revolution called Industry 4.0. Organizations who want to realize the potential of this revolution need to "Industrialize their data," making it a core asset to deliver better products and customer service, navigate complex business environments, and transform for the future. MarkLogic customers are delivering on this vision for data with a proven architectural pattern called the Operational Data Hub that simplifies the integration of data along the digital thread to power operational and analytic use cases across the enterprise.