Japan's Rust Belt Counting on Robonomics to Run Assembly Lines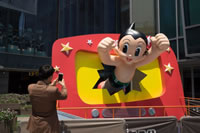 Yoshiaki Nohara, Toru Fujioka, and Daniel Moss for Bloomberg: A withering factory town in Japan's Rust Belt is looking for revival through a dose of Prime Minister Shinzo Abe's "robot revolution."
Kadoma's population has declined 13 percent as the nation ages, prompting mergers among elementary schools and emergency services departments. Factories can't find enough people to run assembly lines, further threatening an industrial base that includes titan Panasonic Corp. and smaller businesses like Izumo Co., a maker of industrial rubber.
Yet Izumo President Tsutomu Otsubo doesn't believe the solution involves finding more people. He'd rather find more machines to do the work so his company can capitalize on Abe's plan to quadruple Japan's robotics sector into a 2.4 trillion yen ($20 billion) industry by 2020. Cont'd...
Comments (0)
This post does not have any comments. Be the first to leave a comment below.
---
Post A Comment
You must be logged in before you can post a comment. Login now.
Featured Product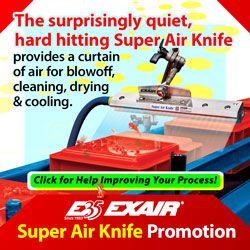 EXAIR Cabinet Cooler® Systems are a low cost, easy to install, maintenance free way to cool and purge electronic control panels. EXAIR Cabinet Coolers incorporate a vortex tube that produces cold air from ordinary compressed air - with no moving parts. The compact Cabinet Cooler can be installed in minutes through a standard electrical knockout. NEMA 12, 4, and 4X (IP54 and IP66) Cabinet Coolers that match the NEMA rating of the enclosure are available in many cooling capacities for large and small control panels. NEMA 12 Cabinet Coolers are ideal for general industrial environments where no liquids or corrosives are present. NEMA 4 Cabinet Coolers incorporate a low pressure relief valve for both the vortex tube and cabinet air exhaust. This valve closes and seals when the cooler is not operating to maintain the integrity of a NEMA 4 enclosure. NEMA 4X Cabinet Coolers offer the same protection as NEMA 4 but are constructed of stainless steel for food service and corrosive environments.