3D printing of patterned membranes opens door to rapid advances in membrane technology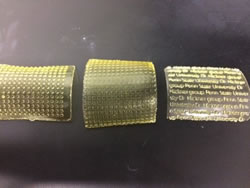 Penn State Materials Research Institute via Science Daily: A new type of 3D printing developed by researchers at Penn State will make it possible for the first time to rapidly prototype and test polymer membranes that are patterned for improved performance.
Ion exchange membranes are used in many types of energy applications, such as fuel cells and certain batteries, as well as in water purification, desalination, removal of heavy metals and food processing. Most ion exchange membranes are thin, flat sheets similar to the plastic wrap in your kitchen drawer. However, recent work has shown that by creating 3D patterns on top of the 2D membrane surface, interesting hydrodynamic properties emerge that can improve ion transport or mitigate fouling, a serious problem in many membrane applications.
Currently, making these patterned membranes, also called profiled membranes, involves a laborious process of etching a silicon mold with the desired pattern, pouring in the polymer and waiting until it hardens. The process is both time-consuming and expensive, and results in a single pattern type.
"We thought if we could use 3D printing to fabricate our custom-synthesized ion exchange membranes, we could make any sort of pattern and we could make it quickly," says Michael Hickner, associate professor of materials science and engineering at Penn State. Cont'd...
Comments (0)
This post does not have any comments. Be the first to leave a comment below.
---
Post A Comment
You must be logged in before you can post a comment. Login now.
Featured Product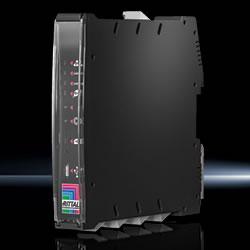 Download the Rittal Fact Book, we'll show you side-by-side product comparisons of Rittal and competitive products, and let you decide. You are an innovator. Your mind runs with "What if?" and the status quo can always be improved. When you find a supplier like Rittal who is forward thinking, you know you've found a partner. A supplier known worldwide for equipment that incorporates cutting edge technology, designed for efficiency, and solves problems other engineers hadn't even considered yet. A company that lives the Industry 4.0 world and puts it into practice in every step of the process.