Automotive Industry 4.0 – Disrupting the Industry?
Pascal Drescher for The Market Mogul: We all know what happened to Nokia and Motorola around a decade ago – are BMW, GM and Toyota the next to get disrupted?
The automotive industry developed on an evolutionary path after Henry Ford's game-changing introduction moving assembly line over a century ago, but the industry might soon get disrupted once more.

There are currently several catalysts, rooted in technological advancements as well as in changes in consumer behaviours such as more and more powerful batteries and growing interest in environmentally friendly fuels, or self-driving vehicles. Furthermore, the sharing economy has reached the automotive industry with different services such as BMW's DriveNow or autolib in Paris. Tesla is so far the most successful new entrant that took advantage of some those developments, but other companies from the Silicon Valley might put an even higher threat to established manufacturers such as BMW, Toyota or GM. What is likely to be the next big thing is the move towards automotive industry 4.0, that is marked by the convergence of automotive, technology and telecommunication industry, according to a Roland Berger study. The automotive industry is not the first to face such disruption, thinking about how iTunes revolutionised the music industry, or how Apple and Samsung with their Smartphones remodelled the telecom industry while previously leading companies such as Nokia had to face bankruptcy. And when thinking of technology and telecommunication, it is clear that it will be once more tech giants Apple and Google who are only waiting to jump into the market, leveraging their massive technological knowledge and financial base. As it is known, both already highly invested in developing self-driving vehicles, Apple under its "Project Titan" and Google's autonomous vehicles are already driving through California. Cont'd...
Comments (0)
This post does not have any comments. Be the first to leave a comment below.
---
Post A Comment
You must be logged in before you can post a comment. Login now.
Featured Product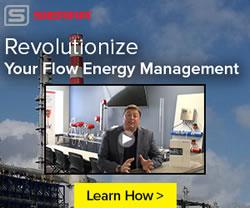 Sierra Instruments announces the launch of its new flow energy solution for managing and optimizing flow measurement for industrial facilities of all sizes. It features Sierra's QuadraTherm 640i/780i thermal flow meters, their InnovaMass 240i/241i vortex flow meters, and their new InnovaSonic 207i ultrasonic flow meter. Designed, built, and calibrated in the USA by Sierra, the Big-3TM share the same revolutionary Raptor firmware and many of the same software apps. They are a complete flow energy solution for flows like compressed air, natural gas, steam, and hot and chilled water. Together, they set a new standard in ease-of-purchase, performance, accuracy, reliability, and ease of use.