Promotional Opportunities
There are many ways to promote your product or service to ManufacturingTomorrow readers. Review the list below to discover all the great opportunities available.
Registering for a free account gives you a free Company Directory listing and allows you to publish your company press releases.
Upgrading to a Marketing Parnership adds a Product Listing, Enhanced Company Listing, Enhanced News Publication Services, Special Event News Reports, Discounts and Special Offers.
Register Now
We do not accept listings from unrelated industries
Here is a complete list of services available:
Display Page
Description
Listing Procedure
Company Directory

FREE - Directory of Companies involved in the industry.
- Your free listing includes contact info including email a web address as well as a short description of what you do. You may include keywords to help readers find you.
- Search features include - Company Name, Industry, Region, Sector and Keywords
- Upgrading to a Marketing Partner (annual fee) adds a logo to the listing and includes a Product Ad (see below)

Free with Basic Registration
News Releases
FREE - Press releases and product announcements. Special tradeshow reports and more..
- Copy and paste your news for publication on our news page within a few hours.
- As a member of the Google News Team, our news (including your releases) is picked up by Google News within minutes
- We produce special news reports for several Trade Shows which allow you to feature your exhibitor news. These reports are promoted throughout the site, in our newletters as well as at the shows.
Free with Registration
Events Calendar

FREE - Event listings ... Trades Shows, Conferences etc.
- We cover all of the major shows in the industries we report on and urge all organizations to keep us informed of dates and locations.

Free with Registration
OR
Send Email with Info

Marketing Partner Program
LOW ANNUAL FEE - One payment sets up the account ... update listings any time you wish.
- Enhanced Company Listings including logo, front page exposure and featured search status. The listing also includes your press releases, articles and product listings making it a mini website.
- Product Ads on product pages, all content pages, newsletters and special tradeshow reports.
- Enhanced News Publication Services, Special Event News Reports, Advertising Discounts and Special Offers
Product Ads
Promote your product or service. Short description, photos and link. Focused Categories.
- Part of the Marketing Partner Program OR Free with 3 month banner advertising campaign
- Categorized ads appear on the product pages (one of our most popular links)
- Ads also appear at the bottom of every page on the site as well as in our newsletters (see below)
Included with Marketing Partnership Program or Advertising Campaign
Advertising

A complete selection of advertising option is available including:
- Multiple banner ad sizes and locations
- Page Peel and Showcase (full page) ads
- Newsletter Sponsorships
- Text and logo ad placements


Click Here for Details
OR
Click here to request a Media kit by email

Contribute Articles and Stories
Help to educate readers while promoting your product, service and expertise.
- Articles, Interviews, White Papers, Case Studies
- The process is very simple. Just email the paper or article along with any diagrams, photos etc. that you wish to have included. Length is not restricted. We do all the formatting and title graphics etc. and prepare the article for publication.
- Biographies, photos, logos and company links can also be included.
Send email
OR
More Details Here
Newsletters and RSS Feeds
Bi-Weekly email newsletters keep you up to date on developments in the industry
- Latest articles, stories and news
- Upcoming events
- Special features and new products
Subscribe Here
Register Now
We do not accept listings from unrelated industries
Featured Product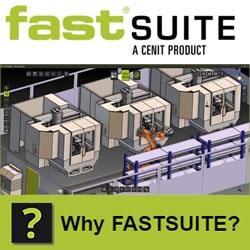 With two product lines, FASTSUITE for V5, which is seamlessly integrated with CATIA/DELMIA V5, and FASTSUITE Edition 2, a standalone platform, the areas of OLP (offline programming), manufacturing simulation and virtual commissioning are the core of our business activities. Our applications and solutions are not only focused on real customer needs, but they are also designed to improve efficiency and quality of our customers' manufacturing processes. No matter if the process is just about offline programming of a single robot at a small job-shop company or about the validation of a complete production line at an Automotive or Aerospace OEM. We strive to ensure a constant quality of our services and to provide the best possible support to our worldwide customers. Therefore we have established three digital manufacturing hubs around the world. All our teams have a proven expertise on manufacturing process integration and profound IT implementation skills.