Belden solutions empower enterprises to manage growing data volumes and unlock digital potential
Belden Inc. (NYSE: BDC), a leading global supplier of network infrastructure and digitization solutions, will showcase its Industrial Automation Solutions portfolio at the 32nd edition of SPS, the trade fair for smart and digital automation, held in Nuremberg on 14 to 16 November 2023.

At SPS 2023, attendees can discover how Belden helps the industrial sector advance the digitization journey by uniting data across various sources, formats and sites to uncover efficiencies, hit business targets and build a world of possibilities:
• Solution Demos: See Belden's data acquisition, analytics, anomaly detection and cybersecurity solutions in action with demonstrations for Belden Horizon Data Operations and Belden Horizon Data Manager, Hirschmann LEMUR and CloudRail.
• Lecture Series: Gain valuable insights from Belden experts as they discuss real-world network transformations driving digital innovation and operational efficiency.
"We recognize that factories and warehouses need an infrastructure that can support increasing data volumes, and we're committed to helping them enable enterprise-wide data to flow seamlessly and securely - from the edge to the cloud - to gain valuable insights and improve key performance indicators (KPIs)," said Brian Lieser, Executive Vice President, Industrial Automation Solutions at Belden. "Our next-generation solutions provide industrial organizations the foundation for digital potential across any protocol or vendor, transporting data for analysis, orchestration and management. Together, we can anticipate what successful outcomes require and solve enterprises' unique networking needs to speed up digitization and accelerate business performance."
Solution Demos: Belden Performance-Driven Industrial Automation Portfolio
As the industrial sector evolves, companies need a technology infrastructure with a robust, scalable network that can handle growing data volumes. Belden delivers the infrastructure that makes our customers' digital journeys simpler, smarter and secure through a performance-driven portfolio, forward-thinking expertise and purpose-built solutions.
SPS attendees can visit Belden's booth for demonstrations of its newest innovations:
• Cybersecurity: Cyberattacks are on the rise, and manufacturing is one of the hardest-hit sectors. Belden helps industrial organizations counter escalating threats with cybersecurity solutions that protect infrastructure from the IO block to the cloud.
• Belden Horizon Data Operations (BHDO) and Belden Horizon Data Manager (BHDM): Industrial organizations need vendor-neutral solutions to harvest and contextualize critical operational data to support advanced analytics. BHDO aggregates data from any source, providing analytics-ready contextual information for enabling successful app execution and making better, faster business decisions. BHDM manages distributed BHDO deployments.
• Hirschmann LEMUR: Enterprises face ever-increasing automation and IT/OT convergence requirements, driving the need to capture, transmit and analyze high volumes of data. The LEMUR Lite Managed Switch Family delivers the advanced data rates required in a cost-optimized, space-saving design with an easy-to-use Hirschmann Entry-Level Operating System (HiEOS) web interface.
Belden will also feature its latest acquisition CloudRail, a fully managed solution to acquire data from industrial environments, pre-process it locally and send it to any cloud. With CloudRail, organizations can connect industrial assets to cloud platforms in hours instead of weeks or months—and create ecosystems with millions of secure installations.
Lecture Series: Next-Generation Network Transformations
In addition to spotlighting Belden solutions, SPS 2023 features several thought leadership presentations by Belden experts.
Revolutionizing the Road: Europe's Automotive Titans Embrace the EV Future with Gigantic Battery Plants and a Network Transformation Tale. This presentation will discuss how Belden played a key role in a major automaker's shift to advanced battery plants, reflecting the automotive industry's electric evolution.
(Tuesday, November 14, 10 AM - 10:20 AM, Forum Hall 8, 8-410)
How Can Digitalization Drive a Double-Digit Efficiency Improvement in a 95-year-old Plant? Learn how a 95-year-old factory transformed with cross-functional teams and technologies, like edge computing, digital twins, machine learning (ML) and artificial intelligence (AI) - resulting in quick return on investment (ROI) and eco-friendly advancements, and inspiring broader digitalization for a cleaner, more efficient world.
(Tuesday, November 14, 5:10 PM - 5:30 PM, Forum Hall 6, 6-130)
How to Contextualize Data for Improved Automation Processes and Decision Making. This session will detail best practices to collect, normalize and analyze the rich operational data delivered by connected operational devices to unlock business potential.
(Thursday, November 16, 9:40 AM - 10 AM, Forum Hall 8, 8-410)
Unleashing the Power of Industry 4.0: Using Ecosystem Partners to Revolutionize Digitization and Performance! This session offers an insightful journey into Belden's Industry 4.0 transformation, highlighting the pivotal role of partners like AWS in digitizing a century-old plant, using AI and ML for predictive maintenance, and inspiring a future filled with innovation and progress.
(Thursday, November 16, 11:50 AM - 12:10 PM, Forum Hall 6, 6-130)
Private 5G in Industrial Automation: Game Changer or Just Hype? Dive deep into spectrum considerations, carrier service innovations, the emergence of Time Sensitive Networking and aligning with business goals to support next-generation communications networks.
(Thursday, November 16, 2 PM - 2:20 PM, Forum Hall 8, 8-410)
To learn more about Belden's Industrial Automation solutions, join us in Hall 10.0, booth #120/121.
For a free admissions ticket (courtesy of Belden) or more information about Belden's presence, visit www.belden.com/Resources/SPS2023.
Featured Product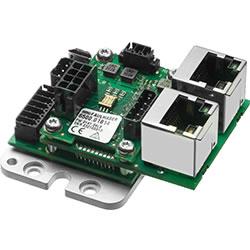 MOTION CONTROLLERS FOR MINIATURE DRIVES AND MICRODRIVES. FAULHABER has added another extremely compact Motion Controller without housing to its product range. The new Motion Controller is ideal for integration in equipment manufacturing and medical technology applications. With 36 V and 3 A (peak current 9 A), it covers the power range up to approx. 100 W and is suitable for DC-motors with encoder, brushless drives or linear motors.