Bison® Introduces All New Gen 2 SANIMotorⓇ Enhanced, next-generation SANIMotor® significantly reduces lead time of innovative product. St. Charles, IL - Bison® - an AMETEK business., a leader in the power transmission industry, has enhanced its innovative SANIMotorⓇ line of products. These design changes maximize throughput and reduce lead times while maintaining the robust features that have established SANIMotorⓇ as a leading product in the market.
In Bison®'s newly enhanced SANIMotorⓇ, all the original exterior dimensions, performance specifications, certifications, mounting holes, and power cable connections remain the same. In addition to the IP69K rating, all exterior components are manufactured from 304 stainless steel. The output shaft is also 304 stainless steel and supported by sealed ball bearings. Moreover, the gearmotor's laser marked permanent nameplate meets extreme washdown rating.


While retaining its primary features, the enhanced, next-generation SANIMotorⓇ has new part numbers. A chart is available at www.bisongear.com with old part numbers alongside corresponding new part numbers. For any questions about these products, please contact Bison® at 1-800-282-4766.
For more information about Bison®, visit https://www.bisongear.com.
###
About Bison®
For more than 100 years, Bison®, An AMETEK company, has helped OEMs differentiate their products by developing robust, flexible and durable blowers, motors, pumps and gear motors under the brand names - Bison®, Lamb®, Nautilair®, Prestolite Motors, ROTRON® Regenerative Blowers, ROTRON® Transportation and Windjammer®.
Our engineering experts understand technical challenges and can provide OEMs so much more than an off-the-shelf part. We are a true technology partner, offering customizable and collaborative fluid-moving and power transmission solutions.
Bison® has worldwide sales representative support, research facilities and four manufacturing sites in the United States, China, and Mexico.
The company has locations in Kent, OH and St. Charles, IL, which are home to state-of-the-art engineering laboratories that help customers expedite agency certifications, performance testing, prototyping and more.
Featured Product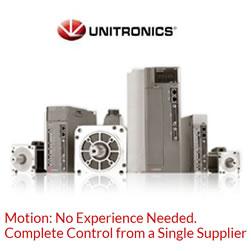 Unitronics' line of AC Servo Drives & Motors changes the traditional approach to motion control. They are simple to set up and painless to program. Unitronics Servos simplify implementation of motion applications while minimizing complexity and reducing development time. Some of the easy-to-use features in this new line include implementing motion control easily with ready-made motion code, embedded diagnostic tools, and automatic communication setup.