Visit stand W113 to meet WMFTS engineers and discuss single use fluid path processes
Watson-Marlow Fluid Technology Solutions (WMFTS) will showcase its fluid path product range at stand West - W113 during ISPE Annual Product Show on September 20th, 2023 at Gillette Stadium in Foxborough, MA.

At the stand, visitors can meet WMFTS specialist engineers, on hand for guidance and advice on single use fluid path processes, and hear about the capabilities of the new Devens, Massachusetts manufacturing plant. Attendees will learn how WMFTS solutions provide flow accuracy, ensuring process stability, cGMP compliance and final product quality. Discover how Watson-Marlow's technology can maximize production of ATMPs, including cell and gene therapies, small batch pharmaceuticals and biologics.
On display will be the Flexicon PF7+ benchtop peristaltic filling machine. With repeatable, precision filling from micro-volume quantities, it offers a reliable, flexible and scalable filling solution for sensitive fluids in GMP production and cleanroom environments. The PF7+ further enhances process performance by reducing the risk of costly product loss with zero-waste start-up and 100% in-process weight checking features. Its electronic batch reporting feature provides audit confidence in batch traceability and further reduces contamination risks with Ethernet enabled audit trails to reduce the need for operators to access cleanroom environments.
WMFTS will also showcase the scalable peristaltic cased pump range, globally recognized and validated for qualified bioprocessing duties. For the user, its enhanced operator and control system interface contribute to step-change improvements in validated process security. Features include color HMI display and intuitive menu structures that provide visual status indication and minimal key presses. Users and process engineers will also benefit from ultimate process security with the addition of a 3-level PIN lock.
Also on display will be the 120 cased peristaltic pump range. The 120 pumps are perfectly suited to support compact bench-top single-use systems where no contamination can be accepted and have been developed to increase the low-flow capabilities of the company's product range for applications in the biopharm sector. The pump is focused on size, performance, and ease-of-use.
###
About Watson-Marlow Fluid Technology Solutions
Watson-Marlow Fluid Technology Solutions (WMFTS) is a world leader in manufacturing peristaltic pumps and associated fluid path technologies for the life sciences and process industries. WMFTS is a wholly owned subsidiary of Spirax-Sarco Engineering plc with operations in 43 countries. Further information can be found at www.wmfts.com.
Featured Product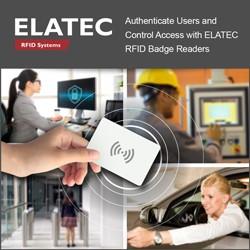 With a tap of the badge, RFID readers from ELATEC provide secure, reliable and easy-to-use user authentication, access control and usage tracking of hardware and software in industrial automation processes. Reader durability in harsh plant floor environments is another essential feature. Choose the right authentication and access control solution and extend RFID card-based capability for the access control of PLC, robot and HMI automation controller software and devices requiring special operator training.