A large selection of off-the-shelf products and customized solutions ready within 5 business days
Mineola, NY - KHK USA Inc., a factory owned distributor of the market leading KHK® brand of metric gears, announces its extensive line of metric spur gears. Over 8,000 configurations of off-the-shelf KHK Spur Gears are available in many materials, configurations, modules, and numbers of teeth.

The KHK SS Series Spur Gears are minimum plain bore spur gears made from 1045 carbon steel. These gears are ideal for general industrial automation applications. Available in pitch sizes Module 0.5 through Module 10 with 12 to 200 teeth, these gears can be modified with standard keyways, tapped holes, modified bores, heat treating or fixed with locking devices.
The KHK SSA Series Spur Gears are hubless versions of the SS series and are available in Modules 1 through 6 with 15 to 200 teeth. These gears can also be supplied with the same modifications as the SS series.
The KHK SSG Series Spur Gears are similar to the SS series with the addition of the tooth surfaces being induction hardened to HRC 50-55 for added durability. After heat treating these gears have their bores and teeth ground finished for higher precision.
KHK also offers spur gear made from 303 Stainless Steel, MC901 Nylon, Acetal, High-Strength Chromoly Steel, and Brass, for applications where carbon steel is not suited
For more information on KHK Spur Gears, please visit: https://www.khkgears.us/products/spur-gears/.
###
About KHK USA Inc.
KHK USA, based in Mineola, New York, is a wholly owned subsidiary of Kohara Gear Industry. KHK USA is a factory direct, full-service distributor of KHK gears with a large selection of product available off-the-shelf and via frequent replenishment to meet your gearing needs. On staff application engineers assist customers with a wide selection of gears for their design or can produce customer gear quotations.
Featured Product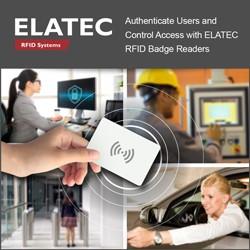 With a tap of the badge, RFID readers from ELATEC provide secure, reliable and easy-to-use user authentication, access control and usage tracking of hardware and software in industrial automation processes. Reader durability in harsh plant floor environments is another essential feature. Choose the right authentication and access control solution and extend RFID card-based capability for the access control of PLC, robot and HMI automation controller software and devices requiring special operator training.