ThinkIQ transforms digital manufacturing with new patent to align data of continuous material flow
ThinkIQ recently announced a new patent that validates its ability to align data of continuous manufacturing material flow. Aligning data allows plant engineers, plant operators, and data scientists to discover correlations, connections, and root causes during the manufacturing process.

The patent further demonstrates ThinkIQ's commitment to deliver comprehensive material traceability as manufacturers digitally transform their businesses. ThinkIQ customers can further benefit from granular and contextualized tracking of materials to improve yield, quality, safety, compliance and brand confidence.
ThinkIQ's platform includes advanced visualizations, cause & effect identification, industry benchmark reporting, and cross-plant KPIs. The platform reveals material movements to identify new insights and unlock improvement opportunities. The proprietary software incorporates Artificial Intelligence and Machine Learning with unique elements that make the analysis and presentation unique. ThinkIQ's Next Generation Historian maintains supply chain and manufacturing data for traditional data analytics tools, while the company's Semantic Model creates the required context to relate sensor data to equipment, processes, materials, and goods. ThinkIQ's Material Ledger is a key innovation in supply chain data analytics.
"ThinkIQ's technology provides a much-needed resource as businesses are looking to digitally transform their factories and product supply chains," said Doug Lawson, CEO of ThinkIQ. "This patent is a testament of our mission to deliver cutting-edge Industry 4.0 technologies and we continue to drive leading innovations in the smart manufacturing industry."
Featured Product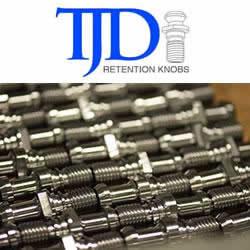 Our retention knobs are manufactured above international standards or to machine builder specifications. Retention knobs are manufactured utilizing AMS-6274/AISI-8620 alloy steel drawn in the United States. Threads are single-pointed on our lathes while manufacturing all other retention knob features to ensure high concentricity. Our process ensures that our threads are balanced (lead in/lead out at 180 degrees.) Each retention knob is carburized (hardened) to 58-62HRC, and case depth is .020-.030. Core hardness 40HRC. Each retention knob is coated utilizing a hot black oxide coating to military specifications. Our retention knobs are 100% covered in black oxide to prevent rust. All retention knob surfaces (not just mating surfaces) have a precision finish of 32 RMA micro or better: ISO grade 6N. Each retention knob is magnetic particle tested and tested at 2.5 times the pulling force of the drawbar. Certifications are maintained for each step in the manufacturing process for traceability.