Sandvik Coromant releases new digital learning sessions
Leading supplier of tools and technology for the metalworking industry, Sandvik Coromant, has released a new program of Digital Live Machining (DLM) sessions. The sessions are hosted virtually from Sandvik Coromant Centers — a global network of facilities equipped with ultramodern machinery and technology. The DLM sessions provide live machining demonstrations, educational presentations and interactive discussions with engineering experts.

DLM sessions have been held by Sandvik Coromant for a number of years, leaning on the organization's extensive machining knowledge and its global network of Sandvik Coromant Centers. The centers are physical facilities, staffed by highly skilled engineers and technicians who have deep expertise in metal cutting and machining technologies. The digital sessions are designed to give attendees from around the world access to this wealth of knowledge and to help manufacturers and machine shops optimize their metal cutting processes, save energy, improve productivity and reduce costs.
The centers are located in key markets, including the United States, Mexico, Brazil, Germany, Sweden, India and China. Offering virtual sessions through DLM coincides with the inauguration of several new Sandvik Coromant Centers, including a new state-of-the-art facility that opened in the United Kingdom in May 2023.
"Customers from around the world will now have access to the latest digital learning opportunities from Sandvik Coromant," explained Helen Blomqvist, President of Sandvik Coromant. "Historically, these sessions have been highly successful in providing our customers with the knowledge and tools they need to stay ahead of the competition, and our growing roster of Sandvik Coromant Centers gives us more opportunities to share this knowledge. We are confident that the increased availability of these sessions will further help our customers optimize their metal cutting processes and achieve greater success."
The new program of virtual sessions will be available in multiple languages and time zones, allowing manufacturers and machine shops to participate from anywhere in the world.
"Connecting with potential attendees from areas of the world that Sandvik Coromant Centers do not cover is particularly important — especially for customers with sustainability and energy-saving goals," continued Blomqvist. "Optimizing metal cutting can make a significant difference to the environmental impact of a business, and our technical specialists want to share this knowledge far and wide through our DLM sessions."
Sandvik Coromant Centers offer a range of services, including tooling solutions, application engineering and training programs, in addition to the DLM sessions. Visit the Sandvik Coromant website to find a local Sandvik Coromant Center and to view the upcoming program of DLM sessions.
Sandvik Coromant
Part of global industrial engineering group Sandvik, Sandvik Coromant is at the forefront of manufacturing tools, machining solutions and knowledge that drive industry standards and innovations demanded by the metalworking industry now and into the next industrial era. Educational support, extensive R&D investment and strong customer partnerships ensure the development of machining technologies that change, lead and drive the future of manufacturing. Sandvik Coromant owns over 1,700 patents worldwide, employs over 7,700 staff, and is represented in 150 countries.
For more information visit www.sandvik.coromant.com or join the conversation on social media.
Featured Product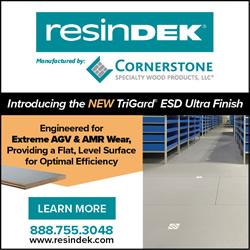 To maximize the productivity of an autonomous mobile robot (AMR) or automatic guided vehicle (AGV) deployment, it's critical to create the optimal environment that allows the vehicles to perform at their peak. For that reason, Cornerstone Specialty Wood Products, LLC® (www.resindek.com) created the TriGard® ESD Ultra finish for its ResinDek® engineered flooring panels. The TriGard ESD Ultra finish is ideal for high-traffic robotic applications characterized by highly repetitive movement patterns and defined travel paths.