Extend the Life of Retention Knobs and Tool Holders
Chagrin Falls, Ohio - T.J. Davies Company, Inc. has begun production of retention knob sockets, and announces their immediate availability.

T.J. Davies Company, Inc. is excited to provide customers with a new product that will extend the life of their retention knobs and tool holders. The retention knob sockets are manufactured at the company's facility in Chagrin Falls, Ohio. They maintain the same excellent quality as the company's other products and offer a lifetime guarantee.
Sockets aid in the installation of retention knobs and pull studs. By using a socket and a torque wrench, the ideal tightness is achieved without rounding off the corners of the retention knob. Sockets are designed to work when flats are up to .020 under wrench max size. These retention knob sockets are made exclusively to fit the retention knobs produced at T.J. Davies Company, Inc., and come in four sizes. They are made in the USA with alloy steel (also made in the USA), hardened to Rc 54-56, and have a black oxide finish.
"Our first product release in over 45 years, the sockets seemed like a natural fit for us as they help extend the life of our retention knobs," reflects company owner, Sherry Davies.
Founded in 1965, T.J. Davies Company, Inc. is a leading manufacturer of retention knobs located in Chagrin Falls, Ohio. "For over 50 years, we have earned and retained the trust of our customers, and our products have exceeded industry standards. We are veteran-founded, and a certified Woman-Owned Small Business (WOSB) company. At the core of everything we do is our set of values, exemplified by our people."
Featured Product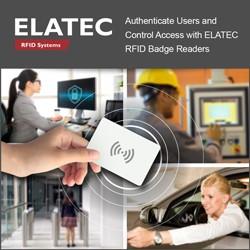 With a tap of the badge, RFID readers from ELATEC provide secure, reliable and easy-to-use user authentication, access control and usage tracking of hardware and software in industrial automation processes. Reader durability in harsh plant floor environments is another essential feature. Choose the right authentication and access control solution and extend RFID card-based capability for the access control of PLC, robot and HMI automation controller software and devices requiring special operator training.