Association for Advancing Automation report shows just under 10,000 units purchased in Q1 2023, down 21% from Q1 2022
ANN ARBOR, Michigan - May 16, 2023. North American companies ordered fewer robots in the first quarter of 2023 than for the same period last year. According to the latest report from the Association for Advancing Automation (A3), companies ordered 9,168 units valued at $597 million in Q1 2023, a 21% drop in total units and a 10% drop in value over the same quarter in 2022, which was the third-best quarter on record for North America.

Automotive customers accounted for 68% of all robot orders in Q1, with 5,659 robots purchased. During Q1, non-automotive orders in consumer goods, semiconductor & electronics, plastics & rubber, life sciences/pharmaceutical/biomedical, metals, and others purchased 3,519 robots, down 42% over Q1 2022.
"While inflation and a slowing US economy may have taken a slight toll on robot orders overall, automotive companies continue to accelerate their purchases as they make the transition to manufacturing electric vehicles," said Jeff Burnstein, president of A3. "Non-automotive companies are typically newer to automation and may be waiting to invest more until they've tested recent deployments or see the economy begin to recover. They also might be waiting to see the latest innovations in robotics at Automate 2023 next week in Detroit. We're seeing big registration numbers from all industries and can't wait to show everyone what's possible with automation today!"
Labor Shortages, Reshoring Key Factors in Automating; Inflation Possible Reason for Slowdown
Despite the state of the US economy, labor shortages, led by the manufacturing industry, remain the key driver in the growth of automation. As a result, more manufacturers continue to turn to automation, especially to handle the "dull, dirty and dangerous" tasks unattractive to human workers.
"In addition to labor shortages, we're seeing many U.S. manufacturers bring more tasks back to North America as international labor costs continue to climb," said Alex Shikany, vice president of membership and business intelligence. "Many find that the best way to bring manufacturing back quickly is to automate."
Attend Automate 2023 May 22-25 in Detroit to Learn the Latest Trends, Best Practices in Automation
Anyone interested in robotics and automation can discover the latest in cutting-edge robotics as well as vision, artificial intelligence, motion control and more, at Automate 2023, the leading automation showcase in North America. Registration for the four-day show, scheduled for next week in Detroit, is free, while the conference has daily fees.
About Association for Advancing Automation (A3)
The Association for Advancing Automation (A3) is the leading global advocate for the benefits of automating. A3 promotes automation technologies and ideas that transform the way business is done. Members of A3 represent nearly 1200 manufacturers, component suppliers, system integrators, end users, academic institutions, research groups and consulting firms that drive automation forward worldwide.
A3 hosts a number of industry-leading events, including Automate (May 22-25, 2023, in Detroit); the Robotic Grinding and Finishing Conference (July 25-26, 2023, in Minneapolis, Minnesota); Autonomous Mobile Robots and Logistics 2023 (October 4-5, 2023, in Memphis, Tennessee); the International Robot Safety Conference 2023 (October 9-11, Pittsburgh, Pennsylvania); AI & Smart Automation Conference 2023 (October 10-11, 2023, Pittsburgh, Pennsylvania) and A3 Business Forum (January 15-17, 2024 Orlando, Florida).
Featured Product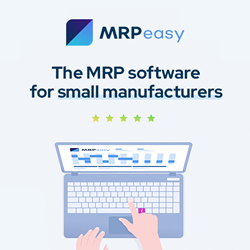 Always know what you have in stock and what you'll need to fulfill orders. Never forget to order parts on time or fail to notice a late delivery from your vendor. Easily create manufacturing orders and schedule them automatically according to resource availability or delivery deadline. Generate accurate cost and lead time estimates and provide customers with quick quotes. Receive notifications when orders are late or inventory levels reach a critical point. Ensure seamless communication between sales, production, warehousing, procurement, administration, and finance. Integrate with popular accounting, CRM, and e-commerce apps. MRPeasy is an ERP software for small manufacturers that gives you all that and more. Our users report a 54% average improvement in the overall performance of their business and a 42% increase in on-time deliveries. Try for free, no credit card needed.