Visit Booth #2103 as BRM celebrates its 100th Anniversary
Bally Ribbon Mills (BRM), an industry leader in the design, development, and manufacture of highly specialized engineered woven fabrics, announces its participation and celebration of its 100th Anniversary at Techtextil North America, which will be held May 10-12, 2023 at the Georgia World Congress Center, Atlanta, GA. Visit BRM at booth 2103 to see its standard and custom designed tapes and webbings for a wide range of applications used around the world.

Since BRM's founding in 1923 as a custom textile manufacturer in Bally, PA, the company has provided products for aerospace, defense, medical, safety, automotive, commercial, and industrial applications used around the world.
In booth 2103, see BRM's range of products:
E-WEBBINGS® - woven fabrics of traditional fibers combined with "functional" elements: conductivity, light transmission, and sensors.
Composites - fabrics that contain more than one unique fiber for the purpose of utilizing different but inherent properties of each component fiber.
Tapes and Webbing with Superior Properties - high strength to weight ratio, , abrasion resistance, low elongation, and many more critical design characteristics.
Materials on Mars - engineered fibers and fabrics utilized by NASA, ESA, and commercial contractors for mission success in applications for near and deep space applications.
Techtextil North America is the largest showcase of trendsetting technical textiles and nonwoven products in the Americas. The show assembles all vertical aspects of the technical textile industry: from research and development, through raw materials and production processes and finally ending in conversion, further treatment, and recycling.
For more information on Bally Ribbon Mills highly specialized engineered woven fabrics visit www.ballyribbon.com.
About Bally Ribbon Mills
Bally Ribbon Mills (BRM) designs, develops, and manufactures highly specialized engineered woven webbing, tapes, specialty fabrics, woven preforms, and two dimensional and three dimensional structural fabrics. With 100 years of textile manufacturing experience, BRM has earned a reputation for meeting new advanced design challenges. Working in aerospace, defense, medical, safety, automotive, commercial, and industrial applications, BRM offers ingenuity, technical know-how, extensive weaving capabilities, and rigorous quality assurance systems. For more information, visit www.ballyribbon.com or call 610-845-2211.
Featured Product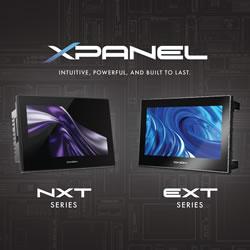 Introducing the Xpanel eXT and nXT series, advanced industrial HMI solutions that set a new standard for performance and usability. Utilizing our brand new Canvas HMI software for project creation, the Xpanel eXT and nXT series deliver a seamless and efficient user experience. They combine industrial-grade touch technology, powerful embedded OS hardware with a quad-core CPU, and an easy-to-use runtime platform. The Xpanel eXT and nXT series are specifically designed to optimize and streamline industrial operations, enhancing your HMI experience.