Students, parents and educators are invited to participate in free tours, interact with industry professionals and learn about careers in automation and robotics
ANN ARBOR, Michigan - May 4, 2023 - Today, the Association for Advancing Automation (A3) announced its Workforce Development Day will take place on Thursday, May 25 during Automate in Detroit.

Workforce Development Day will offer students ages 12 and up (with an adult chaperone), instructors and parents, with opportunities to learn more about top technologies and careers within automation and robotics across leading industries.
"While some sectors are experiencing employment declines, new jobs in automation and robotics continue to increase," said Deb Kling, vice president of A3. "By attending Workforce Development Day, young professionals, parents and educators can discover exciting career paths they might not have otherwise thought about and meet with industry professionals from leading companies."
This year's Automate Show will feature more than 700 exhibits from the world's largest and most advanced manufacturers of industrial robots and automation technology. Students attending Workforce Development Day have the opportunity to participate in free guided tours of the show floor throughout the day. During the tours, students will be able to see the latest technologies on display, learn more about pursuing a career in automation and share their resumes with select companies exhibiting at the show. Interested individuals can sign up for a tour by completing the required form by Friday, May 12.
For instructors within the engineering, robotics, mechatronics, machine vision, AI and automation space, A3 is hosting the Educator Networking Luncheon. The luncheon will take place from 12:30-2:30 p.m. on Thursday, May 25 and will feature discussions with key leaders in the industry focused on the latest trends, workforce development, educational equipment, curriculum and more. This offering is free for educators who are employed by a school, institution, or professional organization that supports student academic training and achievement (including secondary schools, career technical centers, colleges, universities, professional organizations, and nonprofits). To apply for a spot, individuals must complete the required form by Friday, May 12. Space is limited and subject to approval.
There are additional educational and workforce opportunities slated to take place during Automate 2023. Automate will be the largest trade show this year at Huntington Place - spanning more than 300,000 square feet of floor space with more than 25,000 people from around the world expected to register.
About Association for Advancing Automation (A3)
The Association for Advancing Automation (A3) is the leading global advocate for the benefits of automating. A3 promotes automation technologies and ideas that transform the way business is done. Members of A3 represent over 1,160 automation manufacturers, component suppliers, system integrators, end users, academic institutions, research groups and consulting firms that drive automation forward worldwide.
A3 hosts a number of industry-leading events, including Automate (May 22-25, Detroit, MI), the Robotic Grinding & Finishing Conference (July 25-26, Minneapolis, MN), Autonomous Mobile Robots & Logistics Conference (October 4-5, Memphis, TN.), the International Robot Safety Conference (October 9-11, Pittsburgh, PA), the AI & Smart Automation Conference (October 10-11, Pittsburgh, PA), and the A3 Business Forum (January 15-17, 2024, Orlando, FL).
Featured Product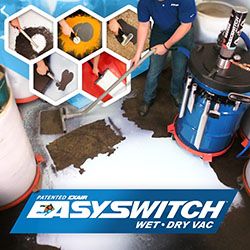 VariBlast Precision Safety Air Guns are small and lightweight air guns capable of handling tough jobs. Designed with a variable flow trigger they are able to produce different force values from the same nozzle simply by pulling the trigger. EXAIR is offering a special right now on all of their Safety Air Guns. Learn more at https://exair.co/184-saqgpromo https://exair.co/184_511