At the forefront of innovating automated post-processing technologies specifically for additive manufacturing (AM), AM Solutions will be showcasing an array of options at TCT 360 which are at the same time cost-effective, accurate, and repeatable.
(30th March 2023, Knowsley, Merseyside, UK.) At the forefront of innovating automated post-processing technologies specifically for additive manufacturing (AM), AM Solutions will be showcasing an array of options at TCT 360 which are at the same time cost-effective, accurate, and repeatable. On booth C39 in Hall 1 in Birmingham 7-8 June, AM Solutions invites visitors to see it S1 Wet and C1 machines (showcasing for the first time in the United Kingdom), and the S1 and C1 machines, all of which contribute to the automation of the AM process chain, and therefore to the competitive use of AM as a production technology moving forward.

Colin Spellacy, Head of Sales at AM Solutions UK says, "AM Solutions is part of the Rösler Group, and as a company we have been working at the forefront of surface finishing for 80 years. Recently, we have applied this expertise to the field of additive manufacturing (AM) which has its own unique set of requirements when it comes to post-processing. Many companies planning to use AM as a production technology are unaware of the fact that post-processing can account in some instances for up to half of the cost of a finished AM part or component, and as such the use of efficient, automated post-processing technologies is vital. We are delighted to be prominent at the TCT 360 event, and look forward to discussing application specific post-processing requirements with the visitors."
AM Solutions' S1 Wet on show at TCT 360 is a versatile wet-blasting solution for cleaning and finishing surfaces. In the case of AM parts, wet blasting has been largely disregarded, yet it is a clean, reliable, and repeatable process. It consistently produces better surfaces than other processes and is ideal for parts created by direct metal laser melting (DMLS) or selective laser sintering (SLS). Powder residue adhering to AM workpieces is removed with the S1 Wet, even in hard-to-reach internal channels and on complex shapes. In the finishing area, the system delivers smooth surfaces in a precise and repeatable process. The S1 Wet can process metal or plastic parts individually or in batches, has a small footprint and an automatic abrasive concentration control. In addition, the process water is also recycled and the system can be run in manual, semi-automatic and fully automatic modes. Another enormous advantage is that wet blasting is not subject to ATEX regulations, as there are no dust explosion risks.
The S1 is a smart solution for cleaning and surface finishing, which set new standards for the post-processing of parts from powder bed fusion (PBF) AM technologies. The smart plug-and-play solution impresses by being able to perform cleaning and surface finishing all in one self-contained unit (2-in-1 concept) with the same media, in a manual or automatic process, saving time and costs.
Furthermore, it is also suitable for the surface finishing or de-powdered metal components made from non-reactive metals, and is equipped with a blast media conditioning system for optimal and consistent quality of the blasting media. Moreover, it features a newly developed air management system which means even fewer deposits in the interior.
Spellacy continues, "Alongside the S1 and the S1 Wet, visitors at TCT 360 will also be able to see our C1 and M1 Basic technologies. The C1 is a sophisticated solution for automated and cost-effective post-processing of photopolymer parts. The machine processes precise functional components, design objects with filigree structures, and complex prototypes just as effectively, and is significantly faster than any comparable system on the market. Our M1 Basic is being used extensively in AM production environments, and is our all-round post processing solution for the surface smoothing and polishing of single parts and small batches, and is able to handle both plastic and metal AM parts. It is a compact machine, which means that it is easily integrated into practically any manufacturing line, and multiple parts can be simultaneously treated in separate processing chambers through the installation of divider plates. For many components, mass finishing represents a cost effective alternative to chemical smoothing. We really do have a solution for any AM process, and as we make all of our machines in-house, we can always customise solutions to specific applications where necessary."
The extent of the array of innovative AM post-processing solutions on show at TCT 360 demonstrates AM Solutions' dedication to the 3D printing sector, and the company's team of experts will there in force to discuss all the post processing requirements of the show attendees on booth C39. The company is also excited that its S2 continuous flow shot blast system — used for the automatic cleaning and surface finishing of plastic components printed with powder-bed based printing technologies — has been voted as a finalist in the TCT Awards 2023. Visitors will be able to find information about this technology at the show.
www.solutions-for-am.com
About AM Solutions / Rösler Oberflächentechnik GmbH
For over 80 years, the privately owned Rösler Oberflächentechnik GmbH has been actively engaged in the field of surface preparation and surface finishing. As global market leader, we offer a comprehensive portfolio of equipment, consumables and services around the mass finishing and shot blasting technologies for a wide spectrum of different industries. Our range of about 15,000 consumables, developed in our Customer Experience Centers and laboratories located all over the world, specifically serves our customers for resolving their individual finishing needs. Under the brand name AM Solutions, we offer numerous equipment solutions and services in the area of additive manufacturing/3D printing. Last-but-not-least, as our central training center the Rösler Academy offers practical, hands-on seminars to the subjects mass finishing and shot blasting, lean management and additive manufacturing. Besides the German manufacturing locations in Untermerzbach/ Memmelsdorf and Bad Staffelstein/Hausen the Rösler group has a global network of 15 locations and 150 sales agents.
Featured Product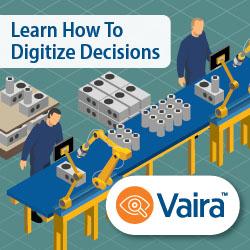 Vaira™ helps manufacturers digitize, automate, and upgrade error-prone manual processes and decisions to boost productivity and increase profits by helping humans make decisions consistent, reliable, and traceable. The camera-based solution is powered by a scalable suite of shop floor-ready apps built on proven machine vision and AI expertise for frontline manufacturing operations, with two-way integration to resource planning tools to help drive continuous analysis, insight, and improvements. Start digitizing immediately, streamlining processes customized to your unique requirements and reduce errors that lead to costs, delays, and quality concerns.