Bare head construction makes this nut driver ideal for accessing tight spaces
Burlington, NJ - Cementex, the safety tool specialists, highlights their bare headed nut driver options, offering unparalleled reach and access to tight spaces. Designed specifically for electricians, maintenance operators, linesmen and technicians, this offering of bare headed nut driver options permits access to equipment with limited clearances such as terminal blocks, bus bars and beyond. This tool is a great addition to customers' toolkits when one of Cementex' s standard nut drivers will not fit.

The Bare Headed Nut Driver Options come equipped with the double insulated shaft protection, which customers have come to expect from Cementex. Uniquely, the insulation does not cover the head, offering additional functionality and enabling more access to tighter spaces than any other nut driver available on the market.
Proudly made and designed in the U.S.A., Cementex Nut Drivers' signature double insulated shaft and single layered insulated head are 10,000V tested and exceed industry safety guidelines, while providing the slimmest shaft insulation available.
Cementex tools not only comply with ASTM F1505 and IC 60900 standards but also help meet the requirements of OSHA 1910.331-.335, NFPA 70EĀ®, and CSA-Z462. Learn more at www.cementexusa.com/catalog/screwdrivers-and-nut-drivers/.
About Cementex
Cementex is the innovative, industry-leading supplier of safety hand tools. As the only double-insulated hand tool supplier that controls the entire manufacturing process from insulation through testing, Cementex has an unparalleled commitment to quality and user safety. With constant innovation in response to customer needs, Cementex is on the cutting-edge of both custom and turn-key engineered insulated tools. The design-driven company is continually innovating while remaining committed to producing only the highest quality safety-based products. For all of your safety equipment needs, including tools, personal protective equipment, and more, turn to the experts at Cementex. Visit www.cementexusa.com or call 1-800-654-1292 for additional information.
Featured Product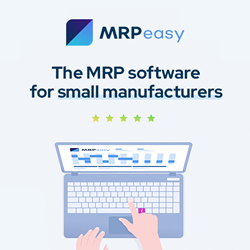 Always know what you have in stock and what you'll need to fulfill orders. Never forget to order parts on time or fail to notice a late delivery from your vendor. Easily create manufacturing orders and schedule them automatically according to resource availability or delivery deadline. Generate accurate cost and lead time estimates and provide customers with quick quotes. Receive notifications when orders are late or inventory levels reach a critical point. Ensure seamless communication between sales, production, warehousing, procurement, administration, and finance. Integrate with popular accounting, CRM, and e-commerce apps. MRPeasy is an ERP software for small manufacturers that gives you all that and more. Our users report a 54% average improvement in the overall performance of their business and a 42% increase in on-time deliveries. Try for free, no credit card needed.