RS offers more than 13,000 enclosures and related products from Hammond Manufacturing to provide commercial and industrial customers with a convenient source for complete custom enclosures. Hammond's order fulfillment process ensures that they're perfect.
FORT WORTH, Texas, March 22, 2023 - RS (formerly Allied Electronics & Automation), a trading brand of RS Group plc (LSE: RS1), a global omni-channel provider of industrial product and service solutions, offers more than 4,900 fully customizable electrical and electronic enclosures from Hammond Manufacturing, in addition more than 2,900 supporting products.

Enclosures are used to connect and protect two or more electrical and electronic components and devices. They are employed in virtually every commercial and industrial application, and every enclosure gets modified in some way. The simplest enclosures, junction boxes, have just a couple of holes cut for input and output wires, while more complex enclosures can have holes cut for connectors, displays, and other components and can even be silkscreened, molded in a special color, and fabricated to a special size.
Hammond Manufacturing can factory modify every one of the more than 2,100 electrical enclosures and more than 2,700 electronic enclosures that RS has in stock or available for drop-shipping during the order fulfillment process and is committed to delivering a perfect product. Most modifications can be completed in just a few weeks. During that time, Hammond will submit a custom drawing for approval, machine the approved design, and overnight ship a sample enclosure so customers can test it with their components and devices. Then, it will make any additional modifications necessary to ensure that it's perfect before shipping the final product to customers with a custom part number that they can use if they ever want to order that same enclosure through RS again.
"Our factory modification process is a real differentiator," said Tom Ballou, the Sales and Marketing Manager at Hammond Manufacturing. "More than half the time, after a customer receives a sample of the custom design they've already signed off on, they come back and ask for a small change. It's almost never a mistake; it's usually just something they noticed would be perfect if it were just a little bit different, like moving a hole five-thousandths of an inch, and our process allows us to make it perfect for them."
Hammond Manufacturing has over 100 years of experience designing, manufacturing, and modifying a wide variety of electrical and electronic enclosures and offers more than 13,000 enclosures and related products — including power distribution equipment, thermal management solutions, transformers, tools & hardware, wire & cable products, and rack mounting solutions — through RS to provide customers with a convenient source for complete custom solutions. Its electrical enclosure line includes mild steel, stainless steel, aluminum, non-metallic, disconnect, modular freestanding, operator interface, and commercial enclosures, as well as wireway and trough, climate control solutions, rack mounting solutions, and accessories extending from hardware, panels, and panel accessories to outlet strips, window kits, and lighting. Its electronic enclosure line includes diecast, plastic, extruded, general-purpose metal, chassis, rack-mounted, and industrial enclosures, as well as development board products, handles, and accessories extending from feet, hole plugs, and cord grips to tilt bails and pole mounting kits.
"RS is a great source for factory modified enclosures," said Tom. "Although Hammond is a leading global supplier of electrical and electronic enclosures, it's also a family company with about 1,000 employees, so our partnership with RS is really valuable. The RS sales team is unique in how knowledgeable and well experienced they are when it comes to Hammond enclosures. Selling custom, modified enclosures requires a real hands-on relationship, and RS works closely with customers to get a comprehensive understanding of their application and help them select the best modifications for their needs. We've had a lot of success together so far and are looking forward to a lot more."
The extensive amount of inventory available through RS and its partnership with Hammond Manufacturing helps customers reduce inventory, avoid expedited orders, and prevent project delays, and Hammond's unique factory modification process ensures that every enclosure is a perfect enclosure for the application at hand.
To learn more, check out episode 10 of the RS Expert Advice Podcast, "Factory Modified Electrical Enclosures" with Tom Ballou, available in video and audio-only versions. You can also visit the Hammond Manufacturing storefront, Reliable Watertight Enclosures, and Industrial-Strength Stainless Steel NEMA Enclosures pages on the RS website, the Hammond Manufacturing video collection on the RS YouTube page, and the Hammond Manufacturing homepage.
For assistance identifying and modifying Hammond Manufacturing enclosures ideally suited for your application, please contact your local RS representative at 1.866.433.5722 or reach out to the RS technical support team.
About RS in the Americas
In the Americas region, RS (formerly Allied Electronics & Automation) stocks more than 230,000 industrial and electronic products from more than 650 trusted suppliers. These solutions cover categories extending from automation and control equipment to interconnect, passive, active, and electromechanical components and include more than 80,000 high-quality, competitively priced RS PRO products. For more information, please visit https://us.rs-online.com or connect with us via social media on Facebook, Twitter, LinkedIn, and YouTube.
About RS Group
RS Group plc is a leading global omni-channel industrial product and service solutions provider to customers who are involved in designing, building, and maintaining industrial equipment and operations, safely and sustainably. We stock more than 700,000 industrial and electronic products, sourced from over 2,500 leading suppliers, and provide a wide range of product and service solutions to over 1.2 million customers. With operations in 32 countries, we trade through multiple channels and ship over 60,000 parcels a day.
We support customers across the product life cycle, whether via innovation and technical support at the design phase, improving time to market and productivity at the build phase, or reducing purchasing costs and optimizing inventory in the maintenance phase. We offer our customers tailored product and service propositions that are essential for the successful operation of their businesses and help them save time and money.
RS Group plc is listed on the London Stock Exchange with stock ticker RS1 and in the year ended 31 March 2022 reported revenue of £2,554 million.
For more information, please visit https://www.rsgroup.com/ or connect with us on LinkedIn or Twitter.
Featured Product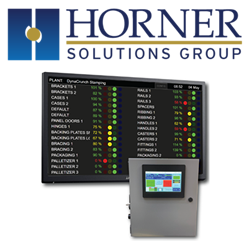 Horner Solutions Group offers a pre-programmed solution that is fast and easy to implement. No development on the user end, just a simple setup on the touchscreen and you can start monitoring and collecting data in minutes. With the ever-growing need for production data in the industry, we wanted to help bridge the gap for many production companies to be able to start collecting accurate and functional OEE (Overall Equipment Effectiveness) data within just a few minutes of setup, as opposed to the weeks/months many companies spend developing their own solution from scratch. For any customers that may have a need outside of the typical product mold, we also offer engineering services for custom hardware and software solutions of various types.