The company will be demonstrating to visitors that it offers the next generation photo-chemical etching (PCE) process which is orders of magnitude more precise and repeatable than any other PCE process on the market.
(22nd March 2023, Muellheim, Germany) The micrometal Group will be exhibiting at the upcoming Hannover Show Hall 3 Stand J18 April 17-21. The company will be demonstrating to visitors that it offers the next generation photo-chemical etching (PCE) process which is orders of magnitude more precise and repeatable than any other PCE process on the market.

Jochen Kern, Head of Marketing at micrometal says, "We are excited to be at the Hannover Show again this year, and it is always useful being able to show visitors the power of our next-generation PCE process. Manufacturers in general are interested in PCE as it is able to produce burr and stress-free metal parts with great precision. However, over time, micrometal has evolved the process to exceed the precision and repeatability of traditional PCE suppliers, and this is opening up possibilities in product design and manufacture hitherto impossible."
Design engineers are increasingly turning to PCE as they are under pressure to create smaller and increasingly complex precision metal components. As with any process selection, designers need to be aware of the specific attributes of the chosen manufacturing technology when looking at design attributes and parameters. The versatility of PCE and its unique advantages as a precision sheet metal machining technology makes it an engine for design innovation, and can truly be used to manufacture parts that would be deemed impossible if using alternative metalworking technologies.
micrometal's next generation PCE process builds upon the precision of the legacy PCE process, and uses a unique and patented wet paint etching system, the coating being 2 - 8 microns thick as opposed to traditional dry PCE coating which are 10 - 50 microns thick. Liquid photo-resist is more suitable for high precision mass production in continuous processes, results in higher reproduction accuracy, and allows very small feature sizes or 25 microns to be produced, a minimum hole diameter 80% of the material thickness, and single digit micron tolerances repeatably.
micrometal also uses high-resolution glass photomask tools printed at 100,00 dpi, providing superior reproduction and resolution than film photo-tooling used in conventional chemical etching processes.
High-resolution glass photomask tools are inexpensive to make, and very easy to adapt. In addition, the cost of glass tooling does not increase significantly with part complexity, which cannot of course be said for steel tools. In addition, glass tooling does not wear out, and also it does not impart distortion and stress onto the metal being processed, and produces parts that are completely flat. In many instances, via PCE a part will have been manufactured in volume before the tool-maker has even pushed the button on the fabrication of a steel tool which then may have a lead time of months before completion.
Kern continues, "This combination of liquid etch and glass tooling provides extremely precise control of the etching process, enabling configurations, features and tolerances that cannot be achieved by other methods such as stamping, laser machining, or traditional PCE. 3-dimensional features can actually be etched into the thickness of the material itself, and dimensional tolerances as low as +/-0.005mm can be achieved. Traditional PCE uses relatively thick dry film resist which compromises ultimate part precision and the tolerances that are available, and it is only able to achieve a smallest feature size of 100 microns, and the smallest hole diameter is a factor of 1-2 when compared to material thickness.
Photo chemical etching is perfect for applications that require metal components with ultra-high precision on thin material. It can produce unique physical features, unique surface textures, identification features and is characterised by extreme consistency part-to-part and competitive cost.
Come and visit the micrometal team at the Hannover Show on booth J18 in Hall 3, and see how next generation PCE can help you innovate the products of the future.
www.micrometal.de
Featured Product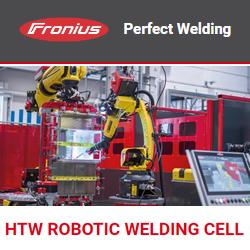 We aspire to produce more than just welding systems, which is why we are the innovation leader for arc welding and are constantly developing welding processes further. In addition to welding technology for robot applications, we offer solutions for manual gas shielded arc welding, for MIG/MAG, TIG, and MMA welding processes. We also implement automated, complete welding solutions tailored to customer requirements in the field of welding automation. After all, welding creates connections - between metals, between industries, and between people. Connected by the arc, by passion, by the beat of welding.