• Blickfeld announces a strategic partnership with robotics technology company, CubiQ, to efficiently automate and digitalize warehouse incoming and outgoing processes. • CubiQ freight measurement solutions with integrated Blickfeld Cube 1 LiDAR sensors are offered under the name CubiQ-X, delivering dimensional weight (DIM) in less than two seconds and providing up to 99 percent accuracy. • CubiQ-X is the only system on the market that can measure pallets secured with black stretch wrap and isn't affected by reflective light conditions. • 200 CubiQ Systems have already been installed and are operational globally for companies like Procter & Gamble and DHL and can be updated to CubiQ-X for even better performance.
January 26, 2023: Blickfeld, the Munich-based manufacturer of breakthrough LiDAR sensor solutions is announcing its partnership with CubiQ, a company developing cutting-edge technology for the automation of logistic processes. Blickfeld's Cube 1 sensors will be integrated into CubiQ's warehouse management solutions. The LiDAR-enhanced systems will be named CubiQ-X.

A measurement system with unique capabilities
CubiQ-X offers warehouses a solution with unprecedented precision for calculating the dimension of objects. The 3D dimensioning system provides the length, width, height, weight and photographic image of the product in less than two seconds. It also scans barcodes and uses natural language processing to read text on labels. CubiQ-X is, thanks to the capabilities of Blickfeld's Cube 1 sensor, the only system on the market which can measure pallets secured with black stretch wrap and isn't affected by reflective light conditions. The solution is technology agnostic and thus can integrate with any ERP or WMS.
Leading companies worldwide already rely on CubiQ
CubiQ is the leading solution for dimension issues in Latin America and is being used by global companies like the US-based consumer goods group, Procter & Gamble; the German parcel express service, DHL; the Chilean cargo airline, Latam Cargo; Colombia's largest airline, Avianca; the Italy-based global industrial conglomerate, CPS Group; and the US-based warehousing and logistics service provider, Magnum Logistics.
Patrick Pylypuik, Vice President of Sales, Blickfeld North America, comments: "CubiQ has created an unfair advantage for its customers in highly competitive industries. Forward-thinking logistic companies, especially Freight Forwarders, Couriers, and Airlines, are selecting CubiQ not only for its ability to formulate DIM accurately in less than two seconds but also seeing ROI in 30 days. The low cost of entry and ease of use make the CubiQ-X by CubiQ Technologies, a must-have for any business that manages freight in 2023."
Camilo García, CEO of CubiQ says: "We are very pleased to be able to take our well-established system to an even higher level with Blickfeld's LiDAR sensors. Our customers will benefit greatly from the extremely fast available data. Their processes will be more automated and digitalized - reducing the lead time to clients by up to 60%, and reducing operating costs by up to 80%. In logistics, speed, accuracy and reliability play a key role, and Blickfeld LiDAR sensors improve all these parameters enormously. Also, our Software-as-a-Service business model makes CubiQ an OpEx investment and as such reduces the financing risk and the tax load."
Featured Product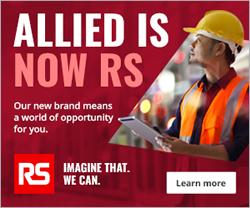 Imagine a global, end-to-end partner for industry - dedicated to solving your problems so you can drive your business forward. We can. On February 6, 2023, we officially changed our name to RS. It's just one way we're evolving to make our partnership and doing business with us even more rewarding. As RS, you have access to more support, more expertise, and more possibilities for your big and small projects - from concept and design to build and maintenance. Going forward, you'll see the RS logo on our website, social media, communications, and packaging. And rest assured, our current systems and procedures will remain intact to seamlessly process your order.