Updated materials extend the pump's service life and expand its applications
Dexter, MI - Q.E.D. Environmental Systems, Inc., a leading manufacturer of innovative environmental products and subsidiary of Graco Inc. (NYSE: GGG), highlights its AutoPump® Ultra 4+ Aggressive Fluid Duty landfill liquid pump that features upgraded materials that extends the pump's service life and expands its use cases to a wider set of conditions.

The AutoPump® Ultra 4+ Aggressive Fluids pump has stainless steel parts that have been upgraded to 316-grade, dramatically improving corrosion resistance. The pump's nonmetallic internal parts are polyvinylidene difluoride (PVDF). PVDF, a high-grade engineered plastic, retains higher strength at elevated temperatures and has extremely broad chemical resistance. These components ensure the new pump withstands the acidic and oxidizing cleaning agents sometimes used for pump maintenance.
The AutoPump® Ultra 4+ Aggressive Fluids pump has a patented design that achieves chemical resistance that lasts in a host of challenging scenarios. Specifically, it is able to provide reliability and safety in the following difficult conditions: hydrocarbon (LNAPL and dissolved phase) remediation; landfill leachate and methane condensate pumping; solvent (dissolved phase and DNAPL) cleanup; suspended solids, silts and corrosives; high viscosities; high temperatures; and frequent starts and stops.
The AutoPump® Ultra 4+ Aggressive Fluids pump is available as either a 4-inch bottom inlet or a 4-inch top inlet and can withstand temperatures up to 180° Fahrenheit. It has a maximum fluid viscosity of 1,000 cSt, a maximum depth of 250 ft, and a flow range of 6-14 gpm. This rugged and resilient pump serves a diverse range of applications, including use cases for landfills, mining, DOD and DOE sites, remediation sites, and oil and gas.
For more information, visit www.qedenv.com.
About Q.E.D. Environmental Systems, Inc.
Q.E.D. Environmental Systems, a subsidiary of Graco Inc., is a leading manufacturer of innovative environmental pumping systems, landfill products, landfill gas products, and air strippers for use at landfills, mines, oil refineries and other industrial sites, as well as hazardous waste cleanup sites. QED products are used around the world for a wide range of environmental applications, including groundwater sampling, groundwater remediation pumping, landfill leachate and condensate pumping, landfill gas collection and control, landfill and biogas analysis, air stripping and VOC removal, and wireless data acquisition. Based in Dexter, MI, QED serves customers from support centers in Michigan and England. For more information, call 734-995-2547 or contact us at info@qedenv.com.
Featured Product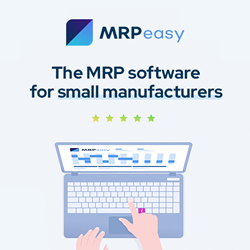 Always know what you have in stock and what you'll need to fulfill orders. Never forget to order parts on time or fail to notice a late delivery from your vendor. Easily create manufacturing orders and schedule them automatically according to resource availability or delivery deadline. Generate accurate cost and lead time estimates and provide customers with quick quotes. Receive notifications when orders are late or inventory levels reach a critical point. Ensure seamless communication between sales, production, warehousing, procurement, administration, and finance. Integrate with popular accounting, CRM, and e-commerce apps. MRPeasy is an ERP software for small manufacturers that gives you all that and more. Our users report a 54% average improvement in the overall performance of their business and a 42% increase in on-time deliveries. Try for free, no credit card needed.