Pumps are ideal for chemical processing and OEM applications
Watson-Marlow Fluid Technology Solutions (WMFTS) highlights its range of Qdos chemical metering pumps for chemical processing and OEM applications.

The Qdos range features a simple drop-in installation that eliminates the ancillary equipment required by diaphragm pump alternatives while maintaining accurate, linear, and repeatable metering for all chemical processing conditions.
Qdos peristaltic chemical metering pumps have flow rates ranging from 0.001 to 32 USGPH at up to 100 psi with +/- 1% accuracy. An intuitive menu offers advanced control features including fluid level monitoring, line priming, fluid recovery, leak detection, and flow calibration.
Qdos pumps are available with either 110V AC or 12-24V DC. The 12-24V DC power option increases the range of Qdos applications involving remote applications where 110V AC power supply is not available.
Qdos pumps offer long maintenance intervals, and have no valves or seals to clog, leak or corrode. Furthermore, the pumps feature no-tools maintenance with quick and easy pump head replacement, reducing the impact of process downtime and lowering the total cost of ownership.
Built for simplicity in installation, operation, and maintenance the Qdos range of pumps are adaptable to fit all chemical processing and OEM applications.
To learn more about Qdos, visit: https://www.wmfts.com/en-us/watson-marlow-pumps/cased-pumps/qdos-metering-pump/.
About Watson-Marlow Fluid Technology Solution
Watson-Marlow Fluid Technology Solutions is an award-winning, global leader in fluid management technology and for over 60 years has engineered components and systems for customers in the food processing and handling, pharmaceutical and industrial markets. The company is part of Spirax-Sarco Engineering plc, a FTSE 100 company. Learn more at www.wmfts.com or @WMFTS_news.
Featured Product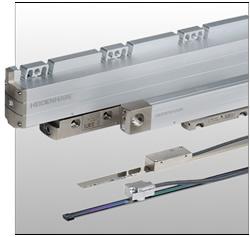 Nothing beats the positioning accuracy of linear encoders from HEIDENHAIN. Available in absolute and incremental versions and ideal for a variety of applications-including machine tools, semiconductor machines and medical machines-these measuring solutions combat a variety of issues that erode precision.