Visit Hall 3, Booth A36 to view them plus see the GN800 steel rule form cut stack Thermoformer in action
BEAVERTON, Michigan - BMG, the world's leading provider of forming, tooling and automation solutions for the global packaging industry, announces it will be highlighting its lineup of sustainable and new products, the GN915 Thermoformer, Mantis™ Robotic Trim Press Handler, QuadPro™ Paperformer and NextGen Controls™ at the K2022 trade fair which will be held October 19-26 in Messe Düsseldorf, Germany, Hall 3, Booth A36.

In addition to showcasing the new products, BMG will be running live demonstrations of GN's flagship steel rule form-cut-stack high-speed Thermoformer, the GN800. Also, on display for live demonstrations will be BMG's NextGen Controls™ human-machine interface (HMI) platform.
Products form GN, Brown, Lyle, Freeman and NAS will be showcased together under the BMG corporate branding at K2022. "We are proud to attend the 2022 K-Show under the singular umbrella of BMG." Says Paul Phillips, Vice President of Marketing and Sales Operations. "BMG will be offering insights into our work with new and existing customers on material circularity surrounding sustainability. We are excited to highlight GN's flagship steel rule die, form cut stack Thermoformer the GN800, running a PP hot drink lid at the show." Adds Phillips, "In addition to that, we will also be showcasing four new product offerings within the group including the larger GN915 from GN, Mantis - Robotic Trim Press Handler from NAS, Quad Pro - Paper former and New Generation Controls from Brown. BMG is able to offer customers turnkey products and services for both plastic and paper applications covering all aspects from the product creation including all in process and downstream automation."
Products in the Spotlight
GN800 and GN915
The flagship GN800 and the new GN915 are high-speed, plug-assist, form-cut-stack thermoformers. This innovative GN product uses fully-integrated servo controls throughout-including the movable top and bottom platens for precise forming and cutting of parts. With multiple configurations and forming areas, easy to use HMI, and the ability use competitor tooling, the GN thermoformers are an ideal choice for food, medical or consumer packaged goods project.
QuadPro™ Paper Former
Brown diversifies into paper products with the release of the QuadPro™ paper former that uses a patent-pending, continuous thermoforming process to achieve the highest production output and lowest scrap rate in the industry. Multiple state-of-the-art technologies and processes were developed collaboratively by all three BMG divisions to create the turnkey paper former of the future - today.
NAS® Mantis™ Robotic Trim Press Handling System
The Mantis™ robotic trim press handling system is the next generation in thermoformed product handling. Compatible with all trim presses but specifically designed for both non-servo- and long-eject models. The Mantis is ideal for handling lids, cups, bowls, and clamshells, Mantis can automate counting and separation of parts from any trim press machine. Mantis can reduce users labor requirements by up to 75% at the end of the trim press.
BMG's NextGen Controls™
NextGen Controls is an intuitive, easy-to-use HMI platform that simplifies operations and reduces training requirements for new employees. Compatible with most existing servo-based BMG machines, the NextGen Controls platform will provide a common look and feel to all BMG brands and future products.
Visit www.BMG-Solutions.com for more information.
About BMG
BMG in Beaverton, MI, is a global leader in thermoforming, tooling and automation with best-in-class quality and innovative product lines. It designs and manufactures a complete line of continuous thermoforming equipment, tooling, material handling and packaging automation, robotics, and related services including system upgrades, prototyping, process optimization, and technical support. Its equipment has been "Made in North America" for 85 years, with systems operating in over 70 countries serving customers worldwide. Visit www.BMG-Solutions.com for more information.
Featured Product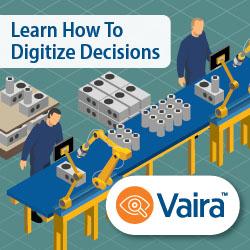 Vaira™ helps manufacturers digitize, automate, and upgrade error-prone manual processes and decisions to boost productivity and increase profits by helping humans make decisions consistent, reliable, and traceable. The camera-based solution is powered by a scalable suite of shop floor-ready apps built on proven machine vision and AI expertise for frontline manufacturing operations, with two-way integration to resource planning tools to help drive continuous analysis, insight, and improvements. Start digitizing immediately, streamlining processes customized to your unique requirements and reduce errors that lead to costs, delays, and quality concerns.