Location-based process automation (LPA) is the key enabler for autonomous operations. With KINEXON OS, we provide you with a powerful real-time operating system to analyze, optimize, and automate all processes via location technologies/RTLS from BLE and UWB to GPS. Enabling virtually unlimited use cases, KINEXON OS adds direct value to your operations in real time and provides invaluable insights to future-proof your business.
The RTLS market is estimated to reach USD 12.7 billion by 2026, at a CAGR of 26.5%. As more and more companies are leveraging location technologies along their supply chain, location data provides value that goes far beyond asset tracking, auto-ident, and status updates. Via a new software category, location-based process automation (LPA), companies can utilize location data to automate processes across the value chain - via geofences, event triggers. Additionally, extensive process monitoring and mining functionalities within LPA software allow for unprecedented visibility and transparency about production steps, processes, and quality control.

Meet us at the IMTS Conference:
Beyond RTLS: Leveraging location data for industrial process automation
Tuesday, September 13 • 2:15 PM - 3:10 PM Central
and at the Hannover Messe Solutions Theater:
The Digital Twin of Moving Things: Smart Automation via Location Technology
Monday, September 12, 11:15 AM - 12:00 PM
Featured Product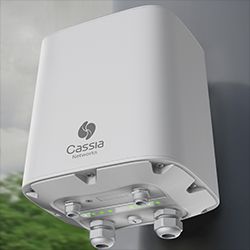 Cassia works with smart IIoT equipment manufacturers to help them overcome their challenges and to provide the competitive edge they need to reach their business goals. We provide companies in various IIoT sectors with a comprehensive suite of enterprise Bluetooth IoT products and solutions they need to enable smart IIoT solutions such as Condition Monitoring, Predictive Maintenance as well as Personnel and Asset Tracking solutions. Cassia's long-range Bluetooth gateways are uniquely designed for today's Industrial IoT enterprises to provide the scalability, flexibility and ease of deployment needed to reduce costs and achieve greater ROI.