Visit Booth 134102 to get a unique look at advanced machining and automation capabilities through interactive demos
Mitsubishi Electric Automation, Inc. will exhibit its innovative solutions for a resilient and sustainable future at the International Manufacturing Technology Show (IMTS) from September 12-17 in Chicago.

The booth will preview an enhanced CNC controller, the M800V/M80V Series, which is currently slated for an early 2023 release in the Americas. M80/M800V adds additional functions to highly successful M800/M80 Series, released in 2014, including high-definition 3D machining simulation to minimize trial cutting and a new, streamlined operator interface. Mitsubishi Electric Automation will also maintain a presence in the Smartforce Student Summit area of the show, featuring training equipment and simulators as the company aims to develop the next generation of the machining workforce. Mitsubishi Electric Automation will also host the technologies and staff of several of its marquee collaborators such as SICK, Realtime Robotics, Apera and ICONICS in its booth. The technologies of these companies will work in tandem with Mitsubishi Electric robots and cobots in the booth.
Among the unique, interactive demos in the booth include a video game programmed entirely with Mitsubishi Electric Automation components, using ladder logic within the PLC and displayed on a Mitsubishi Electric HMI. Classic video game controllers are wired into remote I/O modules using the latest time-sensitive networking (TSN) technology, a hallmark of the CC-Link IE TSN network. The demo puts a fun twist on the concept that speed matters and Mitsubishi Electric components are up to the task.
Gemini 3D Simulator Software will be showcased for the first time in the United States. It allows users to construct animated 3D models in a virtual space to preview production operations, analyze scenarios and save rework by troubleshooting issues on-the-spot before constructing their project.
"We are excited to show our single source solutions at our booth at IMTS," said Scott Strache, senior product manager for mechatronics at Mitsubishi Electric Automation. "As we look towards a resilient and sustainable future, it is important that an automation supplier provides technology that is advantageous not only in the present, but remains with customers for the long haul. Be it robots, CNCs, HMIs, servo amplifiers, motors, or VFDs, the message we want to get across is that we have a substantial portfolio of automation components for a wide variety of applications, and they all work seamlessly with each other, and our portfolio continuously improves on itself as we innovate further."
To learn more about Mitsubishi Electric Automation at IMTS, visit https://us.mitsubishielectric.com/fa/en/news-and-events/2022/september/imts-2022.
About Mitsubishi Electric Automation, Inc. Headquartered in Vernon Hills, Ill., Mitsubishi Electric Automation, Inc. is a U.S. affiliate company of Mitsubishi Electric Corporation. It offers a broad product portfolio including programmable automation controllers (PAC), programmable logic controllers (PLC), human machine interfaces (HMI), variable frequency drives (VFD), servo amplifiers and motors, control software, computerized numerical controllers (CNC), motion controllers, robots, low-voltage power distribution products, and industrial sewing machines for the industrial and commercial sectors. Additional information about Mitsubishi Electric Automation is available at us.MitsubishiElectric.com/fa/en. About Mitsubishi Electric Corporation With more than 100 years of experience in providing reliable, high-quality products, Mitsubishi Electric Corporation (TOKYO: 6503) is a recognized world leader in the manufacture, marketing and sales of electrical and electronic equipment used in information processing and communications, space development and satellite communications, consumer electronics, industrial technology, energy, transportation and building equipment. Mitsubishi Electric enriches society with technology in the spirit of its "Changes for the Better." The company recorded a revenue of 4,476.7 billion yen (U.S.$ 36.7 billion*) in the fiscal year ended March 31, 2022. For more information, please visit www.MitsubishiElectric.com *U.S. dollar amounts are translated from yen at the rate of ¥122=U.S.$1, the approximate rate on the Tokyo Foreign Exchange Market on March 31, 2022. About Mitsubishi Electric Factory Automation Business Group Offering a vast range of automation and processing technologies, including controllers, drive products, power distribution and control products, electrical discharge machines, electron beam machines, laser processing machines, computerized numerical controllers, and industrial robots, Mitsubishi Electric helps bring higher productivity - and quality - to the factory floor. In addition, our extensive networks around the globe provide direct communication and comprehensive support to customers. About e-F@ctory e-F@ctory is Mitsubishi Electric's integrated concept to build reliable and flexible manufacturing systems that enable users to achieve many of their high speed, information driven manufacturing aspirations. Through its partner solution activity, the e-F@ctory Alliance, and its work with open network associations such as The CC-Link Partners Association (CLPA), users can build comprehensive solutions based on a wide ranging "best in class" principle. In summary, e-F@ctory and the e-F@ctory Alliance enable customers to achieve integrated manufacturing but still retain the ability to choose the most optimal suppliers and solutions. *e-F@ctory, iQ Platform are trademarks of Mitsubishi Electric Corporation in Japan and other countries. *Other names and brands may be claimed as the property of others. *All other trademarks are acknowledged
Featured Product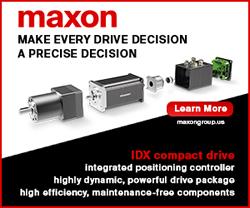 The compact brushless EC-i motor combined with an EPOS4 positioning controller delivers a highly dynamic, powerful drive package with field-oriented control (FOC), high efficiency, and maintenance-free components in a high-quality industrial housing. The maxon IDX drives are suitable for use across the entire speed range (from standstill to maximum speed) and have an extremely high overload capability. Together with a positioning controller, the integrated sensor (single turn) enables absolute positioning.