At IMTS 2022 in Booth 338329, GF Machining Solutions will highlight advances in EDM technology, service, support, automation and tooling
GF Machining Solutions Spotlights Precision and Productivity at IMTS 2022

LINCOLNSHIRE, Ill., September 1, 2022 - At IMTS 2022 in Booth 338329, GF Machining Solutions will highlight advances in EDM technology, service, support, automation and tooling designed to help shops power through their unique manufacturing challenges with complete solutions and holistic support. Plus in booth 338376, System 3R will highlight tooling solutions to reduce setup time and automation solutions to maximize machining hours.
For customer growth and success, these integrated problem-solving solutions include the new CUT X 500 and CUT P 350 Pro wire-cutting EDM machines for precision part generation. To maximize machine-tool value and competitive readiness, the company's new Success Packs feature comprehensive customer support as well as digital services that add connectivity for remote machine monitoring and troubleshooting from GF Machining Solutions experts. Rounding out the lineup of live demonstrations will be an automated cell featuring a MILL 400 U and FORM P 350 with a FANUC Robot. There will also be a System 3R WorkPartner 1+ modular pallet system connected to a GF Machining Solutions LASER P 400 U laser texturing machine.
With Intelligent Power Generator (IPG) technology, the CUT P 350 Pro delivers surface finishes as smooth as Ra 0.08 µm and heightens accuracy with integrated thermal regulation that maintains temperature at ± 0.2°C. To accommodate heavy workpieces, the machine's QUADRAX® mechanical system keeps the table, work tank and dielectric liquid stable.
Capitalizing on more than a century of EDM technology, the CUT P 350 Pro and CUT X 500's new Uniqua human/machine interface (HMI) delivers optimal functionality and ergonomics in a 19" vertical touchscreen, full keyboard and mouse. Abundant automation options add to the machine's scalable flexibility, with optimized production for electronics, automotive, medical and mold and die manufacturers through more than 600 pre-programmed cutting processes.
The AgieCharmilles CUT X series holds extreme accuracies in machining positioning and pitch. Developed to provide high precision and thermal stability in large runs of complex components, including stamping tools, multi-cavity molds and micro components, the CUT X 500 and all other CUT X machines feature adapted mechanical structures, dedicated machine calibration and testing to deliver pitch accuracy as low as 1.0 µm. High-precision axes, short measurement loops, dual measurement on all axes, consistent isolation of the EDM area from heat sources and submerged working areas optimize conditions for micro applications. Two-spool Automatic Wire Changer technology and an onboard Job Management System help further reduce processing time and simplify job prioritization.
To ensure complete customer success, GF Machining Solutions now offers Success Packs - subscription-based access to service at four levels designed to maximize uptime and return on investment. Within the packs, rConnect digital services enable manufacturers to monitor machine performance from anywhere via any mobile device through a secure modern platform that also enables GF Machining Solutions experts to provide live remote troubleshooting and support.
From System 3R, GF Machining Solutions' source for can-do tooling, automation and software solutions, the WorkPartner 1+ (WPT 1+) scalable modular automation system maximizes magazine capacity for loading and unloading parts and electrodes, while conserving valuable shop floor space. With flexible one, two or three-magazine capacities and fully integrated pneumatic control for gripping devices and table chucks, the WPT 1+ easily serves one or two machines. At IMTS, the WPT 1+ will be spotlighted in both the GF Machining Solutions main booth 338329 and in the System 3R booth 338376.
Profile of GF Machining Solutions
GF Machining Solutions is the world's leading provider of machine tools, diverse technical solutions and services to manufacturers of precision molds and tooling and of tight-tolerance, precision-machined components. The key segments we serve include the aerospace, automotive, medical, energy, information and communications technology (ICT) and electronics industries. Our extensive portfolio ranges from Electrical Discharge Machining (EDM) solutions, three- and five-axis Milling machines and Spindles, 3D Laser texturing machines, Additive Manufacturing and machines for Laser micromachining to solutions for Tooling, Automation, Software and Digitalization—all backed by unrivaled Customer Services and support. GF Machining Solutions is a globally acting Division of the Georg Fischer Group (Switzerland) and maintains a presence of 50 locations and more than 3,000 employees worldwide. More information can be found at www.gfms.com
Featured Product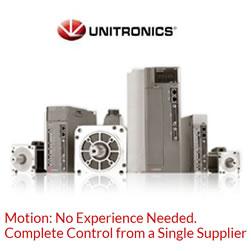 Unitronics' line of AC Servo Drives & Motors changes the traditional approach to motion control. They are simple to set up and painless to program. Unitronics Servos simplify implementation of motion applications while minimizing complexity and reducing development time. Some of the easy-to-use features in this new line include implementing motion control easily with ready-made motion code, embedded diagnostic tools, and automatic communication setup.