-5G-ACIA is the cooperation partner of Deutsche Messe for Industrial 5G -Co-located with North America's largest manufacturing show, IMTS -A private 5G network supporting both mmWave and C-band spectrum will be built-up, accompanied by live industrial applications
Chicago, IL (USA), Frankfurt/Main (Germany) August 29, 2022 - 5G-ACIA will be on the Hannover Messe USA co-located with the IMTS (International Manufacturing Technology Show) in Chicago from September 12 -17. 5G-ACIA member Verizon will build a private 5G network leveraging mmWave and C-Band spectra. 5G ACIA LogoThe 5G network is tailored for industrial users and will be accompanied with several live demonstrations from 5G-ACIA members: Aalborg University, Bosch, Ericsson, Festo, Fraunhofer IPT, HMS Networks, ifak, Nokia, NXP, Phoenix Contact, Radisys, Qualcomm and Verizon.

IMTS together with Hannover Messe USA is the largest gathering of industrial manufacturers in North America and a unique, comprehensive event focused on automation. It attracts proven decision-makers looking to develop relationships and strengthen partnerships. It showcases the world-leading technologies these leaders need to win amid the industry disruption and transformation of industry 4.0 and industrial 5G.
The mission of 5G-ACIA is to ensure the best possible applicability of mobile radio especially the 5G technology for connected industries, in particular the manufacturing and process industries. Deutsche Messe has been a 5G-ACIA member for several years and is cooperating on the technology presentation of Industrial 5G.
Ed Nichols, President of Hannover Fairs USA:
"We are very excited to partner with 5G-ACIA and its member companies in the goal of elevating the interests of the industrial domain in the standardization and regulation of 5G. HANNOVER MESSE USA, co-located with IMTS, provides the best opportunity in the US market to showcase the efforts of 5G-ACIA and to further the mission."
Dr. Andreas Mueller, 5G-ACIA General Chair:
"5G-ACIA has made significant contributions to the development of Industrial 5G in the last couple of years, for example by supporting ongoing activities in relevant standardization bodies like 3GPP or the OPC Foundation. We are very happy that now the hard work and commitment of all 5G-ACIA members gradually pays off as we are taking Industrial 5G from theory to practice. Our long-lasting partnership with Deutsche Messe represents an important initiative to promote Industrial 5G worldwide and to demonstrate how Industrial 5G can help unlock the full potential of Industry 4.0."
Elise Neel, Senior Vice President, New Business Incubation at Verizon:
"We believe in building a powerful and connected manufacturing future, enabled by the transformative nature of 5G. 5G's speed and capacity provide the potential to increase efficiency, mitigate the risks inherent in change and battle inflationary pressures in manufacturing. Verizon is a proud 5G-ACIA member and excited to make our 5G capabilities available at the Hannover Messe exhibition for attendees with live demonstrations showcasing how 5G can revolutionize industrial manufacturing."
About Hannover Fairs USA
Hannover Fairs USA, Inc. (HFUSA) is the U.S. subsidiary of Hannover, Germany's Deutsche Messe - one of the world's largest and most active organizers of industrial technology events. Chicago, Illinois-based HFUSA is the organizer of HANNOVER MESSE USA, the US edition of the global leading HANNOVER MESSE held annually in Hannover, Germany. HANNOVER MESSE USA, co-located with IMTS, is held biennially and together they make up the manufacturing industry's largest US gathering. HFUSA helps U.S. companies expand domestically and internationally at Deutsche Messe's worldwide portfolio of events. HFUSA creates qualified new business leads, helps U.S. companies enter new markets and aids them in forming lasting partnerships both domestically and abroad.
More information: https://hannovermesseusa.com/
About 5G-ACIA
The 5G Alliance for Connected Industries and Automation (5G-ACIA) is the central global forum for shaping Industrial 5G. 5G-ACIA members jointly prepare for the disruptive changes that 5G will bring, promote a better understanding of industrial needs, and gain insights into a highly attractive emerging market. 5G-ACIA provides a unique platform for OT and ICT companies, academia, and all relevant stakeholders to influence 5G developments, in line with industrial imperatives. The currently roughly 100 member organizations make the results of their work directly available to 3GPP, the main standardization body for developing 5G. 5G-ACIA is a market representation partner of 3GPP and has the formal status of a working party of ZVEI e.V.
More information: 5g-acia.org
Featured Product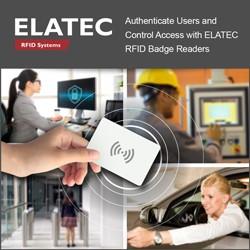 With a tap of the badge, RFID readers from ELATEC provide secure, reliable and easy-to-use user authentication, access control and usage tracking of hardware and software in industrial automation processes. Reader durability in harsh plant floor environments is another essential feature. Choose the right authentication and access control solution and extend RFID card-based capability for the access control of PLC, robot and HMI automation controller software and devices requiring special operator training.