Create shrink bundled packages with a single roll platform with printed or clear film; SRX uses a bottom overlap seal technology for a strong seal and improved product presentation.
WASHINGTON, Mo., July 29, 2022 - Texwrap and Bartelt, both part of the ProMach family of brands, have joined forces to introduce the next generation of single roll bundling systems, the Kayat SRX Series. The SRX Series gives customers the much sought-after packaging equipment for shrink bundling pre-formed trays of product with the option to add graphics with print registered shrink film. This new machine will be demonstrating its capabilities in Texwrap's booth N-5346 at PACK EXPO, 2022, October. 23-26, at McCormick Place in Chicago.

The SRX Series provides several engineering upgrades for customers looking for a single roll bundler platform to handle a wide variety of packaged food and beverage products. The SRX Series creates shrink bundled packages with bullseye closures, using a bottom overlap seal technology for a strong seal and better product presentation.
The Kayat SRX Series is the collaboration of Texwrap's expertise in shrink wrapping, and the legacy that Kayat machines have held in the industry.
"The SRX Series is built upon the iconic Kayat shrink bundling machine platform. We took the strengths that attributed to its market success, listened to loyal customer feedback, and went to work incorporating Texwrap innovation and technological upgrades to make the next generation Kayat SRX Series," said Ingermar d'Agrella, Texwrap's Director of Engineering.
Features and benefits of the new Kayat SRX Series include:
• Toolless adjustable wrap bar assembly: able to adjust machine for package height with no change parts
• Easy access film feed and cut: slide out the film feed and cut mechanism for easy maintenance
• Superior film sealing and control: wrap-bar mechanism and integrated heat tunnel ensure reliability and high performance
• Adjustable tunnel side and bottom air: easily adjust side and bottom air flow to create the most appealing appearance on the end product
• Dual roll film mandrels: minimize changeover time and reduce packaging equipment downtime
Plan to visit Texwrap in booth N-5346 at PACK EXPO 2022 to see how the new Kayat SRX Series can help you increase productivity in your food and beverage packaging applications.
###
About Texwrap
Known as the industry innovator, Texwrap holds patents on some of the most significant breakthrough technologies in the shrink wrapping and bundling business. Texwrap produces automatic shrink-wrapping systems, L-bar sealers, side sealers, tunnels, infeed solutions, and conveyor systems for the food, bakery, industrial, mailing, pharmaceutical, nutraceutical, retail, printing, and publishing industries. Texwrap also manufactures the Tekkra line of shrink bundling systems. As part of the ProMach End of Line business line, Texwrap helps our packaging customers protect and grow the reputation and trust of their consumers. ProMach is performance, and the proof is in every package. Learn more about Texwrap at www.Texwrap.com.
About Bartelt Packaging
Bartelt is a trusted manufacturer of pouching, cartoning, shrink wrapping, over wrapping, and case and tray packing systems, providing dependable and long-lasting solutions to food and non-food industries. Bartelt also operates as a master distributor for FLtècnics' rollstock pouch machines. As the world's first developer of intermittent motion horizontal form fill seal pouching machines, Bartelt is a true pioneer in automated packaging. From simple to advanced applications spanning primary and secondary packaging, quality components and a durable design are incorporated into every solution. Bartelt is a product brand of ProMach, a global leader in packaging line solutions. As part of the ProMach Flexibles & Trays business line, Bartelt helps our packaging customers protect their products and earn the trust of their consumers. ProMach is performance, and the proof is in every package. Learn more about Bartelt at www.BarteltPackaging.com and more about ProMach at www.ProMachBuilt.com
About ProMach
ProMach is a family of best-in-class packaging solution brands serving manufacturers of all sizes and geographies in the food, beverage, pharmaceutical, personal care, and household and industrial goods industries. ProMach brands operate across the entire packaging spectrum: filling and capping, flexibles, pharma, product handling, labeling and coding, and end of line. ProMach also provides Performance Services, including integrated solutions, design/build, engineering services, and productivity software to optimize packaging line design and deliver maximum uptime.
ProMach designs, manufactures, integrates, and supports the most sophisticated and advanced packaging solutions in the global marketplace. Its diverse customer base, from Fortune 500 companies to smaller, privately held businesses worldwide, depends on reliable, flexible, technologically advanced equipment and integrated solutions. ProMach is headquartered near Cincinnati, Ohio, with manufacturing facilities and offices throughout the United States, Canada, Mexico, Brazil, Europe, United Arab Emirates, and China. For more information about ProMach, visit www.ProMachBuilt.com.
Featured Product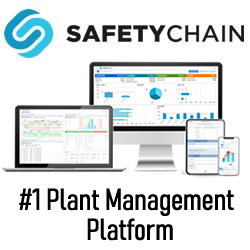 SafetyChain is the #1 Plant Management Platform that improves yield, maximizes productivity, and ensures compliance for process manufacturers. Trusted by over 1,500 facilities, SafetyChain is the only enterprise solution uniting production, quality, safety, and supplier management.