Legendary STYX band entertains for a good cause
Herndon, Va.; June 16, 2022 — PACK EXPO's annual event PACK gives BACK, returns to PACK EXPO International (Oct. 23-26; McCormick Place, Chicago) bigger and better than ever! For the first time in its Chicago history, the event will be a musical performance, with headlining band STYX taking center stage at McCormick Place, according to show producer PMMI, The Association for Packaging and Processing Technologies. Rockwell Automation returns as title sponsor and proceeds will benefit the PMMI Foundation.

Since its inception, PACK gives BACK has become a staple at both PACK EXPO Las Vegas and PACK EXPO International events, with the goal of advancing the future of the packaging and processing industry by providing scholarships to the next generation of professionals.
"PMMI is proud to be able to continue nurturing the future of the packaging and processing industry in conjunction with Rockwell," says Jim Pittas, president and CEO, PMMI. "We are grateful for their support which enables us to invest in the next generation with generous scholarship opportunities."
PACK EXPO International also offers multiple programs and activities aimed at getting students excited about careers in packaging and processing and connecting them with professional mentors in the industry. In addition to exciting networking events and student programs, the highlight of PACK EXPO International will be the new, never-before seen solutions, from thousands of leading suppliers on the show floor, bringing all vertical industries together to generate a cross-pollination of ideas and crossover solutions that can only be discovered in-person.
"As a long time PMMI member and PACK EXPO exhibitor, we are proud to continue our commitment alongside PMMI to invest in the future of the packaging industry," says Gina Claxton, regional president Americas, Rockwell Automation. "We are honored to support the next generation of packaging professionals and once again sponsor PACK gives BACK."
After touring the show floor, attendees can head to a value-packed networking reception then rock out to the legendary band STYX. STYX draws from over four decades of barn burning chart hits, joyous singalongs, and hard-driving deep cuts such as, Renegade, Come Sail Away, Lady, Blue Collar Man, Too Much Time On My Hands, Mr. Roboto, Fooling Yourself, The Grand Illusion, and more. Doors open at 4:30 p.m. on Monday, Oct. 24, 2022.
Tickets include beer, wine, light hors d'oeuvres, and the performance. Attendees can purchase tickets either during the registration process or by logging into their registration record. Purchase nine tickets and the tenth is free.
Proceeds benefit the PMMI Foundation which will give away six $5,000 scholarships; winners will be announced at the event. The PMMI Foundation provides financial support for packaging and processing education throughout the U.S and Canada. Since its inception in 1998, the PMMI Foundation has given more than $2.6 million to strengthen the workforce within the packaging and processing industry.
To learn more and to register, visit packexpointernational.com. Registration for the show is $30 until Sept. 30, after which it increases to $130.  
About PMMI
PMMI, The Association for Packaging and Processing Technologies, represents more than 950 North American manufacturers and suppliers of equipment, components and materials as well as providers of related equipment and services to the packaging and processing industry. We work to advance a variety of industries by connecting consumer goods companies with manufacturing solutions through the world-class PACK EXPO portfolio of trade shows, leading trade media and a wide range of resources to empower our members. The PACK EXPO trade shows unite the world of packaging and processing to advance the industries they serve: PACK EXPO International, PACK EXPO Las Vegas, PACK EXPO East, EXPO PACK México and EXPO PACK Guadalajara. PMMI Media Group connects manufacturers to the latest solutions, trends and innovations in packaging and processing year-round through brands including Packaging World, Automation World, Healthcare Packaging, Contract Packaging, ProFood World, Mundo PMMI and OEM. PMMI Business Drivers assist members in pursuing operational excellence through workforce development initiatives, deliver actionable business intelligence on economic, market and industry trends to support members' growth strategies and actively connect the supply chain throughout the year.
Learn more at pmmi.org and packexpo.com and pmmimediagroup.com.
Featured Product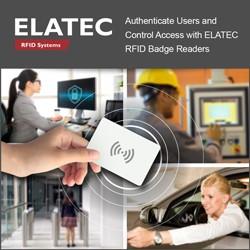 With a tap of the badge, RFID readers from ELATEC provide secure, reliable and easy-to-use user authentication, access control and usage tracking of hardware and software in industrial automation processes. Reader durability in harsh plant floor environments is another essential feature. Choose the right authentication and access control solution and extend RFID card-based capability for the access control of PLC, robot and HMI automation controller software and devices requiring special operator training.