New, high-tech epoxy formulation offers longer lasting traction, visual warnings at tread edges, and a tactile element to prevent slip and falls more effectively in high traffic areas
In commercial buildings across the country, the most common technique for preventing slip and fall accidents on stairs is the application of non-skid adhesive tapes or epoxy coatings embedded with aggregate. The appeal of this approach is that untrained personnel can quickly and easily apply the protection. However, for high traffic stairways, tapes can peel off (creating a trip hazard) and coatings abrade away quickly, leading to frequent reapplication every few months to maintain safety standards.

Now, a new category of durable high-tech epoxy is available as solution to effectively ensure superior stair tread footing, safety, and visibility for years without re-application. This option dramatically reduces the need for maintenance and replacement even in heavily traveled areas and can be quickly and easily applied on stair treads by maintenance personnel.
The Slip and Fall Epidemic
Slip and fall incidents are a leading cause of injury and a factor in many lawsuits and workers' compensation claims. "In general, falls and slips are responsible for 15% of all accidental deaths, the second leading cause behind motor vehicles and account for 25% of all reported injury claims," according to The National Institute for Occupational Safety
and Health (NIOSH). "Injuries from falls of all types cause a variety of strains, sprains, fractures, contusions, concussions, back injuries, paralysis, as well as fatalities, particularly when the fall is from a height."
The risk of a serious fall on stairs inevitably increases when people are inattentive, looking at their smartphones, talking with others, or carrying items. The slip and fall hazard - both in terms of physical injury and potential liability - only increases when the stairs damaged, wet and slippery, or the area is not well illuminated.
"It is very important to improve stair safety in high traffic commercial buildings, particularly in New York state," says Gani Bajraktari, Senior Property Manager at New York-based Bajraktari Realty Management Corp. "In [New York] state, the property owner is presumed responsible if anyone gets hurt on a property. So, a little bit of prevention goes a long way."
To dramatically improve building safety, enhancing the traction, feel, and visibility of stair treads is the most effective means of reducing slip and fall incidents and injuries.
A Long-Term Safety Solution
Enhancing the traction of stair treads to improve safety is not a new concept. However, most options on the market are decidedly low-tech, such as applying non-skid adhesive tape or a coating with embedded aggregate to each tread.
Another common solution at many commercial buildings is the application of a non-skid tape embedded with aggregate. However, if the adhesive does not adhere well to the surface, it can peel off and become a trip hazard within a few months. The aggregate in the tape is only lightly embedded on the surface as well, and in high traffic areas can quickly wear away. In addition to reducing safety, poorly maintained stairs with worn coatings or peeling tape portray a shoddy, unprofessional image as well.
"In my experience, non-skid tape comes off repeatedly. It is a temporary solution, so you are wasting your time, energy, and effort every time you reapply it," says Bajraktari.
Even supposedly rugged options like vinyl stair treads can become damaged in high use settings.
At one commercial building Bajraktari Realty previously owned, four staircases (two main and two emergency) had old vinyl tread glued to the cement.
"I assumed vinyl stair treads lasted forever until I saw a broken one. Till this day I don't know how it could have broken, but it did," says Bajraktari.
Fortunately, Bajraktari discovered a more durable epoxy paste consisting of 100% solids that, once applied, can last for years in high traffic areas. The patented product from Form-A-Tread Company provides an extremely strong bond to a range of stair tread surfaces, with embedded aggregate to increase traction.
The epoxy paste can be used indoors or outdoors as well as exposed to chemicals, weather, and temperature extremes. The bond is so strong that a chisel or angle grinder is required to remove the stair tread line, an advantage in high traffic areas.
According to Bajraktari, he first used the Form-A-Tread epoxy paste to improve the safety and footing of outdoor stairs in residential projects that could become slippery when wet. "It held up amazingly well to the sun's UV and outdoor weather. Seven years later it still looks as good as the day we applied it."
To resolve the issue with the broken vinyl treads at his commercial property, he removed all of the treads, sanded the underlying concrete, and applied the product. The new treads improved safety and minimized the possibility of slip and fall incidents as well as potential liability.
"Instead of temporary applications, it is much more effective to solve the problem the first time with a product like Form-A-Tread and be done with it. The footing is amazing, and you feel more secure going up and down the stairs," says Bajraktari.
He adds, "As far as durability, I expect the stair treads to last for at least ten years or more in indoor applications."
The high strength epoxy paste is designed to be easy to apply to stair treads by even untrained personnel. In a kit supplied by Form-A-Tread, there is a 400 ml cartridge of material that can produce 25 to 40 linear feet of one-inch-wide tread. A special tool is then used to dispense and mix the material at the time of application in the correct ratio - eliminating the risk of human error.
The kit includes a patent-pending stencil system, so the one-inch-wide tread lines remain clean, neat, and parallel. In addition to straight line treads, instructions such as "Exit Here" or a corporate logo can be applied using the material and a stencil.
"The kit provides everything you need. Just follow the instructions and basically anyone can improve stair safety," says Bajraktari.
For added safety, the 100% epoxy tread line does not shrink and so provides a superior tactile sensation that creates greater awareness of footing when climbing or descending stairs.
The product is available in black and safety yellow to delineate the edge of each stair tread. To increase safety in potential indoor blackout situations, a patented IBC 2015 compliant (ASTM E 2072), glow-in-the dark formula is available for increased visibility on leading edges of stair nosings and landings in hi rise buildings.
According to Bajraktari, the epoxy product not only improved safety and eliminated the need for frequent re-application, but also had a more aesthetic look over time due to the lack of visible wear.
"The insurance company will undoubtedly raise its rates to cover its costs," says Bajraktari. He has found the approach surprisingly cost effective in reducing maintenance, potential liability, and commercial insurance rates. In his experience the cost to apply the product proved more cost effective than dealing with additional claims and added insurance costs.
Commercial property managers like Bajraktari have long sought to improve the safety of their facility. However, the traditional methods of adding traction and visibility to stair treads are short-lived and high maintenance. With advanced durable all-solid epoxy pastes that adhere to stair treads for many years, managers now have an easy-to-use tool that can improve safety for the long-term.
For more information: Call 610-994-2138; Email info@rgfmaterials.com; Visit https://form-a-tread.com.
Featured Product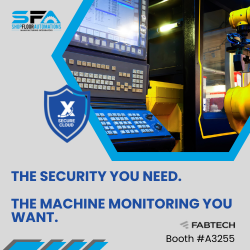 Disparate machines, each with a unique control system and communication protocol with varying ages, can create challenges for manufacturers driving continuous improvement initiatives. There is often limited visibility to make data-driven decisions that can impact every aspect of a manufacturing organization. The Scytec DataXchange machine monitoring solution resolves these issues by capturing real-time, Industrial Internet of Things (IIoT) data from a variety of equipment - from CNCs and PLCs, to robots and manual machinery - through universal machine connections. Leveraging automated data collection, DataXchange exposes and synthesizes equipment data to give your teams full transparency on the shop floor to transform your business into a smart factory.