3D printing leading companies CRP Technology and CRP USA have signed an investment agreement with ITT Inc., a diversified leading manufacturer of highly engineered critical components and customized technology solutions headquartered in Stamford, Connecticut (USA) and present in more than 35 countries.
According to the operation, ITT Inc. becomes part of the shareholder structure of CRP Technology and CRP USA, in line with its business plan for growth aimed at strategically investing and expanding in new technologies.

"This transaction will allow us to implement a very ambitious business plan, focused on growth both in the markets in which we are already present, and in new markets with relative geographical expansion", said Franco Cevolini, CEO of CRP Technology.
"We are proud that ITT chose us to enter the Additive Manufacturing industry: They consider us the right partner up to the expectations and projects they want to implement into the AM world, whose we at CRP Technology are undisputed leaders for almost 30 years".
The investment complements ITT and serves the space, aerospace, defense, premium automotive and motorsports markets. It also enables ITT access to additive manufacturing excellence as the industry and number of applications continue to grow.
"CRP is a smart investment for ITT. With almost three decades of leadership and innovation in additive manufacturing, CRP enables ITT to expand its position in material science and gain hands-on experience with additive manufacturing as the industries we serve continue to transform," said Luca Savi, CEO and President of ITT. "We are proud to partner with CRP as they continue to grow and deliver industry-changing innovations. Together, ITT and CRP can bring to market new products that deliver sustainable, lightweight, durable solutions for our customers."
About CRP Technology
CRP Technology (Modena, Italy) has revolutionized the Additive Manufacturing world by introducing its proprietary high performance composite materials Windform®, now used by the most advanced industry sectors for functional prototypes and end use parts. Its specific application fields including but are not limited to: automotive and motorsports, design, aerospace, UAVs, marine, entertainment, defense. As a material provider, CRP Technology sells to OEMs Windform® materials. For more information, visit crptechnology.com
About CRP USA
CRP USA is located in Mooresville, North Carolina, and specializes in 3D printing with the Windform® family of high-performance materials. With its roots in Formula One Racing, CRP USA produces on-car prototype and end-use components for racing teams and automotive manufacturers. It has taken this expertise to new heights to produce parts for the Aerospace, Defense, Industrial Robotics, and Entertainment industries. For more information, visit crp-usa.net
About ITT
ITT is a diversified leading manufacturer of highly engineered critical components and customized technology solutions for the transportation, industrial, and energy markets. Building on its heritage of innovation, ITT partners with its customers to deliver enduring solutions to the key industries that underpin our modern way of life. ITT is headquartered in Stamford, Connecticut, with employees in more than 35 countries and sales in approximately 125 countries. For more information, visit www.itt.com.
crptechnology.com
crp-usa.net
windform.com
Featured Product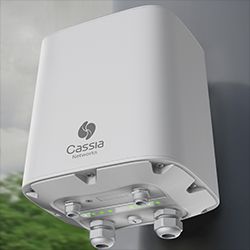 Cassia works with smart IIoT equipment manufacturers to help them overcome their challenges and to provide the competitive edge they need to reach their business goals. We provide companies in various IIoT sectors with a comprehensive suite of enterprise Bluetooth IoT products and solutions they need to enable smart IIoT solutions such as Condition Monitoring, Predictive Maintenance as well as Personnel and Asset Tracking solutions. Cassia's long-range Bluetooth gateways are uniquely designed for today's Industrial IoT enterprises to provide the scalability, flexibility and ease of deployment needed to reduce costs and achieve greater ROI.