Motus Labs is a next-generation gear solutions company that designs and manufactures offerings for automation and robotics applications. The innovative gear architecture designed and tested in the "The Lab" solves some of today's biggest automation application challenges. Robotics developers can leverage Motus Labs gears to maximize the performance and efficiency of actuators, offering automation benefits that can enhance their clients' solutions.

New, patented gear designs from Motus Labs will be showcased at the upcoming Automate 2022 conference in Detroit, Michigan on June 6 - 9 at Booth 2319. Automate brings people together and offers insight into what's possible for manufacturers in the automation space. Suppliers from across the globe come to showcase how their products can improve efficiencies, increase production, and lower costs for today's businesses.
Motus Labs brings the innovation that happens behind closed doors in the lab to the open forum that is the Automate conference floor. Attendees can see the evolution of motion in our engineering process that starts with truly understanding the customer journey and the challenges companies face with automation. Uniquely, Motus Labs designs gear solutions around some of manufacturing's biggest problems.
The ML1200 product is one of the offerings currently in our lab that will be showcased at Automate 2022. This gear series is a CAM and Pad design planned to launch in the second half of 2022. While it's currently in the design and testing phase, it will solve problems for companies looking for a high torque, precision gear in a rationalized footprint. It's also designed and manufactured in the U.S.
Motus Labs will also showcase the gear series with Orbital Flex™ Design called ML2000. It's currently in the design and testing phase with a projected launch date of Q3 2022. This gear solution offers companies alternative materials, multiple ratio options, high speed and is U.S. manufactured. This product will help businesses looking for a zero backlash, high torque gear with high consistent performance and specifications throughout life.
Sierramotion and Motus Labs have partnered to create the SMRT-2000 robot joint. The product includes a zero backlash high ratio gear, a high performance torque motor and a high resolution absolute encoder. It is the perfect combination of precision and performance in a small high output low weight package.
Motus Labs is also partnering with MegaChips to launch a magnetic output encoder. This solution will deliver a high resolution magnetic encoder that will be used inside MegaChip integrated solutions utilizing HD-PLC technology. It's still in the product definition stage awaiting a launch date.
The lab is the place where we are driving the future of robotics. As CEO Joe Pollard has said, "At Motus Labs, we are dedicated to enabling robotic and motion control companies to tackle challenging use cases they are struggling with using today's technology. To do this, we have created …if you can dream it, you can build it." Motus Labs is excited to join Automate to showcase the opportunities these innovative solutions will bring to robotic and motion control companies, so they can help their clients to solve some of their industry's biggest challenges.
Innovation is born here at Motus Labs. "Our unique patented designs open up many doors regarding materials we can leverage in our gear solution," says CTO Carlos Hoefken. The entire Motus Labs family is excited to kick off Automate 2022 with its new, innovative and proprietary gear series.
About Motus Labs:
Motus Labs creates next-generation precision gears that maximize efficient motor and encoder solutions, delivering superior actuator performance, accelerating new agile use cases into the market. From lab to launch, this is where robotic imagination meets revolutionary innovation. Motus Labs is both a lab and a manufacturer that operates from idea to concept to validation to production in a collaborative ecosystem of partners and thought leaders. We focus on solutions that address current and not-yet-imagined use cases so we can bring new ideas to market faster and help our customers do the same. For more information visit www.motus-labs.com.
Featured Product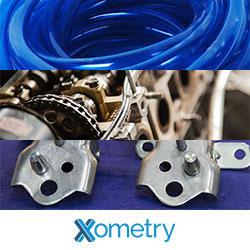 Xometry is your source for custom parts. Now, in addition to getting instant quotes on 3D Printing, CNC Machining, Sheet Metal, and Injection Molding, customers can create and send RFQs for die casting, stamping, and extrusion work to our nationwide network of pre-vetted manufacturers with just a 2D drawing. You will receive and be able to review responses from qualified shops within 7 days on an advanced web-based RFQ management platform. To learn more go directly to our site to issue and RFQ today. Stop wasting time managing RFQs through email and by phone, and start issuing RFQs at scale and in the cloud.