Panasonic Industrial Devices Sales Company of America (PIDSA) will also showcase product offerings and services in Booth #3307 to improve machine performance and efficiency
ROCHESTER, N.Y., May 23, 2022 —Panasonic will share specific steps manufacturers can take when choosing and executing digitalization projects as part of their Industry 4.0 journey at the Automate 2022 show in Detroit on June 6 at 8 a.m.

At Automate 2022, Christina Pierce, Sales Operations Manager for Panasonic PIDSA-IIoTS, will discuss how manufacturers can implement an Industrial Internet of Things (IIoT) solution to increase productivity, reduce costs and improve quality in her presentation, "Where Should You Begin Your Industry 4.0 and IIoT Journey?" In her session, which will take place from 8-8:45 a.m. on Monday, June 6, Christina will share how to get started, and several key process steps manufacturers can take to assure a successful implementation.
"Factory inefficiencies can no longer be brushed aside during a time of uncertain supply chain, labor shortages, and the demands of just-in-sequence manufacturing," said Pierce. "In my session, I'll share the short- and long-term benefits of implementing IIoT, from eliminating paper and printing costs to obtaining real-time data to generate insights into operations, and how attendees can present these concepts to management to spur change."
To learn how Panasonic PIDSA-IIoTS' material flow management offering, the Logiscend system, enables smart material flow management, visit https://logiscend.panasonic.com/.
###
Panasonic Industrial Devices Sales Company of America (PIDSA)
Panasonic Industrial Devices Sales Company of America provides cutting-edge components that power a diverse range of wireless and mechanical devices. Standard and custom components range from industrial automation and wireless connectivity devices to passive components, and other devices such as relays, connectors, sensors, and more. Panasonic Industrial Devices Sales Company is the advanced industrial components and electronic devices sales division of Panasonic Corporation of North America, the principal North American subsidiary of Osaka, Japan-based Panasonic Corporation. To learn more about the company, visit https://na.industrial.panasonic.com/
Panasonic Industrial Devices Sales Company of America—IIoT Solutions (PIDSA-IIoTS):
PIDSA-IIoTS designs and manufactures the Panasonic Logiscend System. Logiscend is a turnkey, material flow management solution for complex, discrete manufacturing. The Logiscend system replaces paper-based material flow processes with a digital-based solution—creating "smart materials." The solution utilizes a unique combination of software, wireless RFID, and e-paper that helps manufacturers get the right parts to the right place at the right time, cost-effectively, and efficiently. Logiscend Software provides real-time visibility of the material flow on the factory floor and maximum flexibility for the plant manager to make changes as needed. Smart materials have two-way communication that broadcasts location, status, and other information about the material to the software and can receive new instructions sent to the e-paper displays to be read by the operator. The system is a single, but scalable solution with a suite of application modules for picking, replenishment, asset tracking, smart container management, and work instructions and can be easily integrated with existing ERP and MES systems. To learn more, visit https://logiscend.panasonic.com/.
About Panasonic Corporation of North America
Newark, NJ-based Panasonic Corporation of North America is committed to creating a better life and a better world serving consumers and also by enabling its business-to-business customers through innovations in Sustainable Energy, Immersive Entertainment, Integrated Supply Chain and Smart Mobility Solutions. The company is the principal North American subsidiary of Osaka, Japan-based Panasonic Corporation. One of Interbrand's Top 100 Best Global Brands of 2020, Panasonic is a leading technology partner and integrator to businesses, government agencies and consumers across the region. Learn more about Panasonic's ideas and innovations at https://na.panasonic.com/
ABOUT AUTOMATE
Automate is a biennial trade show and conference produced by the Association for Advancing Automation (A3). It is proud to be the largest solutions-based showcase of automation, robotics, vision, motion control and other automation technologies in North America. www.automateshow.com. Registration is free at: https://www.xpressreg.net/register/auto0622
Featured Product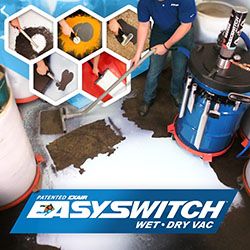 Hazardous Location Cabinet Coolers are available for use with Class I classified enclosure purge & pressurization systems. UL Classified HazLoc Cabinet Coolers are a reliable way to cool and purge electronic control panels. Protect your enclosures! https://exair.co/184_542