Firm to be featured at the booth of machinery supplier Thermwood Corp.
Techmer PM LLC, the Clinton-based compounder and materials design firm, continues to collaborate with 3D printing leaders to produce versatile new thermoplastic materials for use with pellet-fed, large-format printers.

At the RAPID + TCT show in Detroit May 17-19, Techmer can be found on Booth #2213, along with Thermwood Corp., which can build large-scale additive manufacturing machines (LSAM) up to 100 feet in length. Techmer PM has developed a number of general-purpose and specialized 3D printing compounds, with a portfolio that includes glycol-modified PET (PETG), polylactic acid (PLA), polycarbonate (PC), nylon 12, ABS and high-temperature resins such as polyethersulfone (PESU), polyphenylene sulfide (PPS) and polyphenylsulfone (PSU).
These materials have found use in various high-profile projects for such customers as NASA and Oak Ridge National Laboratory. The diverse applications include submarine noses, helicopter blades, entire boats, artwork installations, architectural facades, autoclave composite tooling, and the massive, 93-foot-tall Al Davis Memorial Torch that is the centerpiece of the new football stadium for the Las Vegas Raiders.
"We are materials agnostic," notes Anthony Fiorini, the firm's business development manager for AM. "Our aim is always to deliver the right tool for the job. You can trust our product development expertise for your large-format AM materials. We tailor each compound to the application, with a keen focus on machine-specific materials design. Leveraging our experience can help you avoid making costly mistakes on large-part projects."
At the Detroit show, Techmer will be highlighting its most recent compound -- a general-purpose PETG that it has modified for use in composite tooling for large-format additive manufacturing. Glass-filled ABS traditionally has been a material of choice for this application, but Techmer says its new PETG offers numerous benefits. These advantages include better processing, less odor and smoke generation, superior dimensional stability, excellent compatibility with fillers such as glass fiber and carbon fiber, easily colorable, and the ability to use recycled grades.
"PETG also offers a longer layer time, which provides more flexibility in print configurations, and has a shorter learning curve when it comes to developing products for printing," according to Alan Franc, Techmer PM's senior technical manager for engineered compounds and additive manufacturing.
At RAPID + TCT, Techmer will be highlighting its grades of recycled PETG, as well, Fiorini said. Its carbon fiber material is 99 percent recycled by weight, while its glass fiber version is 70 percent recycled by weight. These grades find use in room-temperature tooling, fixtures, and cutting and assembly jigs -- large parts with complicated geometries.
Thermwood, whose near-net-shape AM systems offer both print and trim on the same machine, will be printing the new PETG compound live at its booth in the machinery maker's trademark color of orange. At RAPID, connect with us at Thermwood's booth (#2213) to learn how Techmer PM can help with your next large-format 3D project.
About Techmer PM
Founded in 1981, Techmer PM LLC is a materials design company that specializes in modifying and fine-tuning the properties of technical polymers. The company thrives on collaborating with plastics processors, fabricators, designers, specifiers, and brand owners. Drawing on a broad portfolio of resins -- from polyolefins to PEEK -- Techmer PM helps manufacturers enhance product function and appearance in scores of end-use markets. The award-winning firm operates six North American plants and has extensive expertise in virtually every plastic- and fiber-related process, from additive manufacturing and blown film to nonwovens, injection molding, and sheet extrusion. Techmer PM has been recognized six times since 2014 by Plastics News on its list of "Best Places to Work" in North America's plastics industry.
Learn more at www.techmerpm.com.
About Thermwood Corp.
Founded in 1969, Thermwood is a diversified, U.S.-based, multinational machinery maker that has become the technology and market leader in large-scale additive manufacturing systems for thermoplastic composite molds, tooling, patterns and parts. Its line of LSAM (Large Scale Additive Manufacturing) machines both 3D print and trim on the same machine. Thermwood is also the oldest manufacturer of highly flexible, 3- and 5-axis, high-speed machining centers known as CNC routers.
LSAM systems are the most widely used large-scale composite thermoplastic additive equipment in industrial production today. Thermwood LSAM processes a variety of reinforced composite polymers -- from room-temperature ABS and polycarbonate to high-temperature materials such as PSU, PESU and PEI. They are available in sizes from 5x10 feet to 15x100 feet in a variety of configurations, including print only and full print and trim, making it the broadest product offering in the large-scale additive arena. Print heads are available that can print thermoplastic composite material at rates from 200 to more than 500 pounds per hour. LSAM is used to produce molds and tools for the aerospace industry, patterns for the foundry industry, and for a variety of other applications. Learn more at www.thermwood.com.
Featured Product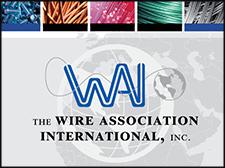 The Wire Association International (WAI), Inc., founded in 1930, is a worldwide technical society for wire and cable industry professionals. Based in Madison, Connecticut, USA, WAI collects and shares technical, manufacturing, and general business information to the ferrous, nonferrous, electrical, fiber optic, and fastener segments of the wire and cable industry. WAI hosts trade expositions, technical conferences, and educational programs.