Munich (Germany), May 3, 2022 - PerfectPattern, specializing in AI applications for the manufacturing industry, has received investment capital from the auditing and consulting firm PwC Germany through its investment company PwC Holdings Germany GmbH. With its AI technology and AutoML solution aivis, PerfectPattern offers manufacturing companies the opportunity to make their processes more efficient and secure for the first time without data science know-how.
Artificial intelligence is used in industry primarily to optimize production processes. This mostly involves analyzing data to identify patterns and then predicting process behavior. This allows early intervention when efficiency losses, quality losses or production interruptions are imminent.

Until now, this has always required the combination of process know-how with data science expertise - with aivis, process engineers and domain experts can now gather in-depth AI-supported insights into their production processes independently.
Validated in the paper, steel and printing industries
"I am very pleased that we have such a strong partner as PwC Germany by our side to lead this Series A financing round. Our aivis technology is already utilized by leading companies in the paper, steel and printing industries. The investment by PwC Germany now enables us to deliver on our growth strategy. We will use the funding to expand into additional industries and access international markets," says Asdrúbal Pichardo, CEO of PerfectPattern.
New Era of Artificial Intelligence in Manufacturing
"With its outstanding AI solution, Perfect Pattern focuses on complex data-driven use cases in industrial environments. We see enormous potential in aivis, which will also benefit PwC clients in areas related to Industry 4.0", says Matthias Odrobina, Managing Director of PwC Holdings Germany GmbH. "We are pleased to support the company in its next phase and to assist in its growth ambitions."
Expansion of the circle of shareholders
PwC Germany is the lead investor in a Series A financing round. The round of investors is participating with a total volume of around five million euros; the main share comes from PwC Germany. PwC Germany now holds a minority stake in the Munich-based technology and software company. The investment expands PerfectPattern's shareholder base, which already includes Voith and other shareholders.
Featured Product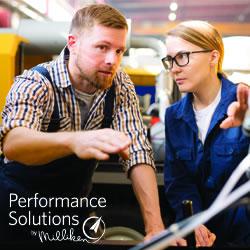 Performance Solutions by Milliken is a dedicated consulting and training group that helps guide businesses toward success. From supply chain, to operations and safety, we're dedicated to developing sustainable results for our clients through the implementation of a holistic operating system. We believe engaging all associates in the process will systematically transform your company to create efficiency, uncover hidden capacity, and generate long-term gains. Are you ready to reinvent your operations and transform your organization? Let's get started.